Celebrate Day of the Dead with NYC Kids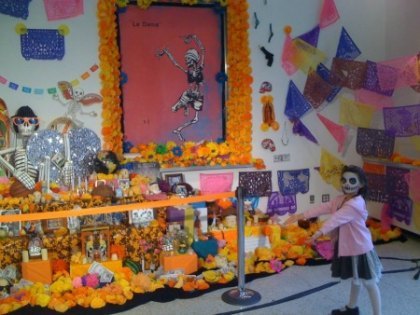 Halloween isn't the only spooky holiday to celebrate in October. Day of the Dead—or Día de los Muertos as it's known in Spanish—is observed by many Latino cultures and is especially popular in Mexico. We've rounded up eight Day of the Dead events where NYC kids and families can celebrate the holiday.
While it's not a Halloween event, it occurs around the same time and features many of the same trappings like skulls and parades. Revelers honor friends and family members who have passed on by building altars and adorning them with colorful paper flowers, grinning skeletons and candles. It's a joyful way to remember the deceased without freaking kids out.
Day of the Dead officially takes place on November 1 and 2 to coincide with the Catholic holidays of All Saints' Day and All Souls' Day. However, NYC events are spread throughout October and early November and most of them are FREE.
Click through to our listings for all the info, including location and time.

El Museo del Barrio hosts one of the biggest kid-friendly Day of the Dead celebrations in NYC.
Super Sabado: Día de los Muertos Celebration — East Harlem
Saturday, October 17
FREE
My daughter and I have been to El Museo del Barrio's annual celebration many times (that's her in skeleton face paint). The museum constructs a giant Day of the Dead altar in its cafe and kids are encouraged to contribute to the display. Enjoy flower and skull face painting, holiday art projects, storytelling and a spooky procession from the nearby Dana Discovery Center in Central Park to the museum. The day closes out with a performance by the Calpulli Mexican Dance Company.
Día de los Muertos Weekend Celebrations — the Bronx
Weekends October 24-November 1
Free with All-Garden Pass
The New York Botanical Garden's popular Frida Kahlo exhibition wraps up with a pair of Day of the Dead-themed weekends inspired by the Mexican artist. Join a parade featuring oversize skeletons, butterflies and La Catrina, aka the gorgeous grande dame of death. Marvel at Los Zancudos de Zaachila stilt dancers, craft your own skull-and-flower mask or get your face painted. On the weekend of October 24-25, the Food Network's master carver Ray Villafane will turn pumpkins into a stunning Día de los Muertos display. And on October 31-November 1, Mexican fiddling outfit the Villalobos Brothers perform high-energy concerts.
RELATED Free Halloween Celebrations for Kids
New York City Day of the Dead Festival — Staten Island
Sunday, October 25
FREE
Celebrate the holiday at Our Lady of Mount Carmel-St. Benedicta School's 23rd annual fair, which begins with the construction of two altars, one by a local Mexican family, the other for the community where visitors can contribute their own mementos. Afterward, craft paper skeletons and flowers, and enjoy traditional music and dance performances.
Día de los Muertos/Day of the Dead — Financial District
Saturday, October 31
FREE
The always-free National Museum of the American Indian hosts an afternoon fete where families can try holiday activities like decorating skull masks and skeleton puppets, crafting paper flowers, painting plaster skulls and contributing to the community altar. Cetiliztli Nauhcampa will also perform traditional dances.

The Queens Museum hosts its annual Day of the Dead fest in Corona Plaza.
Fiesta del Día de los Muertos — Corona
Saturday, October 31
FREE
Hit Corona Plaza for this annual Day of the Dead community fest sponsored by the nearby Queens Museum. Pick up homemade eats from the market, enjoy music and dance performances by the Chief Joseph Chatoyer Dance Company and Ecuador Sumag Llacta, and check out the altar made by locals in collaboration with artist Shellyne Rodríguez. Note, this year's edition is dedicated to victims of police brutality, so there's also a grown-up workshop on prison reform.
Day of the Dead at the New York Hall of Science — Corona
Saturday, October 31
Free with museum admission
NYSCI offers a pair of Day of the Dead activities. In Make It: Day of the Dead, children ages 6 and up can craft sugar skull key chains and hot-glue holiday-themed jewelry. Or hit the museum's outdoor Dead or Alive fest in Rocket Park to learn the art of Oaxacan paper cutting with artist Angela Carlucci, along with Halloween fun like making box monsters, eating insects and watching pumpkin chucking.
RELATED: NYC Harvest Festivals for Families

The community-built altar at Mano a Mano's Day of the Dead fest.
Day of the Dead — East Village
Saturday, October 31-Monday, November 2
FREE
Mexican culture organization Mano a Mano throws one of the best Day of the Dead events in NYC at St. Mark's Church in the East Village. The three-day fest includes a marketplace with Mexican eats and wares, live music and dance performances, paper craft workshops and a communal altar where you can place photos and other remembrances of your loved ones.
Día de los Muertos at the Brooklyn Children's Museum — Crown Heights
Sunday, November 1
Free with museum admission
The best celebration for preschoolers! Listen to Day of the Dead stories to learn about various holiday traditions, and then craft a skeleton puppet. The festivities close out with a concert by Brooklyn-based Mexican band Mariachi Tapatio de Alvaro Paulino.
Top photo: El Museo del Barrio's colorful Day of the Dead altar.
This post was originally published in October 2010.