NYC Cake & Cupcake Decorating Kids' Classes and Parties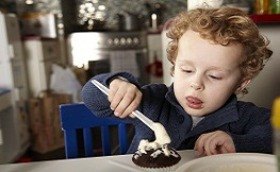 Who doesn't love a deliciously sweet and beautifully decorated cupcake? Or maybe you have a young baker who wants to learn how to make fancy cakes. Cookie, cake and cupcake decorating is a surefire birthday party theme or a cool class activity. There are many NYC venues offering this type of fun, and many make special accommodations for children with gluten, nut and other allergies.
Here are some great NYC spots where kids can bake and decorate cupcakes, cookies and cakes in classes or at parties.
Cake & Cupcake Baking & Decorating Classes
Michaels – Upper West Side
808 Columbus Avenue near 98th Street
At the craft superstore, kids can learn to decorate cupcakes and cakes like pros. Children can choose from Kids Fondant Decorating, Wilton Super Cakes for Kids and Wilton Fondant Cupcakes for Kids classes. Classes are available for ages 8 to 12 for $15. Check the calendar for the complete schedule.
Butter Lane – East Village and Park Slope
123 East 7th Street between First Avenue and Avenue A
240 Seventh Avenue between Third and Fourth Avenues
The East Village location offers daily two-hour classes for children ages 6 to 12 for $60. Kids will learn how to bake and decorate cupcakes in the bakery kitchen. Check the Butter Lane website for a complete schedule. The Park Slope outpost offers monthly classes for Camp Cupcake Members for $10. Classes are seasonal and holiday-themed. Kids receive a membership card and a certificate for a free cupcake. Call the Park Slope location at 718-369-0466 for the schedule.
The Institute of Culinary Education – Chelsea
50 West 23rd Street between between Fifth and Sixth Avenues
Introduce your tweens and young teens to the high-end culinary world with one-off cupcake decorating classes at the Institute of Culinary Education. Upcoming offerings include Gluten-Free Cookies & Cupcakes on Saturday, December 1 from 6 to 9pm, when chef-Instructor Michelle Tampakis will teach children ages 11 to 14 and their parents how to bake and decorate cookies and cupcakes. $85. Visit the website for other upcoming classes.
Taste Buds Kitchen – Chelsea
109 West 27th Street between Sixth and Seventh Avenues
Popular kids' cooking program Taste Buds Kitchen offers weekly Cupcake Kids classes on Saturday mornings. In each session, little bakers learn a new cupcake baking and decorating technique in the nut-free kitchen. Purchase a class pack starting at $395 for 10 classes or drop in for $50. There are also one-off drop-off cupcake workshops. Visit the website for the complete schedule.
Cookie & Cake Decorating Parties
Cookie Party – Midtown West
Celebrate your kid's birthday with a Cookie Party, available at Toys R Us in Times Square. The party, for 10 or more children, gives kids a chance to roll and cut their own cookies, and decorate their creations with a plethora of candies and frosting. The party package starts at $279 and can accommodate any allergy. Email contact@cookieparty.us for more info or to book a party.
The Creative Kitchen Birthday Parties and Playdates – Downtown Manhattan or at Your Home
Host a cupcake decorating party or playdate with Cricket from the Creative Kitchen. Kids can select a theme for the party, like Cookie & Cupcake Exchange, where guests decorate cookies and cupcakes and then share and swap with friends. Celebrate in your own home or at City Treehouse, Manhattan Downtown Youth Community Center or J& R Jr. for an additional fee.
Sprinkles Cupcakes NYC – Midtown East
We reviewed Sprinkles Cupcakes NYC's cute parties previously. Check out our full review for the full scoop on this sweet party venue.
Read about other tasty birthday places in our Parties Guide.
Photo by Ghazalle