Brooklyn Gym Parties: 14 Kids' Birthday Party Places for Jumping, Bouncing and Running Amok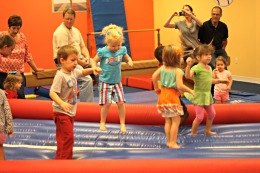 Your kindergartner just told you he wants, no needs to invite all of his classmates to his fifth birthday party. Even in Brooklyn, the average apartment isn't going to be able to accommodate all of those kids, and assuming if you could figure out a way to get them all in there, would you really want to?
For preschoolers and young school-age kids, gym parties are an easy solution. The young guests get to run, tumble, bounce and jump around without having to worry about breaking anything or using their indoor voices, while you sit back, relax and just watch. By the end, they're so tuckered out, even the sugar rush from the cake won't get them going again.
Here are 14 Brooklyn gym party places where kids can celebrate by burning off all their excess energy. Find even more birthday ideas in our Party Guide.
Party Gym – Sheepshead Bay
1130 Avenue Z at East 12th Street
There is all kinds of equipment for kids to conquer: the cushion climb, web crawl, rock climbing wall, air bounce and even a ball pit. Invitations, paper goods, pizza, unlimited beverages, cake, balloons, tattoos and a special gift for the birthday child are included. Plus a brave staff member, wrapped head-to-toe in Velcro, will even let the children pelt him with adhesive balls. Piñata, face painting, a magic show and other add-ons are available.
BounceU – Dyker Heights
6722 Fort Hamilton Parkway near 67th Street
We've raved about this chain of indoor bounce gyms before and with good reason. There's all kinds of inflatable fun to be had here. The Val-U party package lets a dozen guests bounce, slide and mess around for two hours and includes food, invitations, balloons and goodie bags. The Spectac-U-Lar is the same, but accommodates up to 25 people. Want to save a few bucks? Wednesday parties are offered at a discount. Note: Parents are welcome to bounce, too, and often do, but you must include them in your headcount.
Aviator Sports & Events Center – Marine Park
Floyd Bennett Field, 3159 Flatbush Avenue near the Belt Parkway
This massive athletic facility offers all kinds of sporty parties, from ice-skating to rock climbing, gymastics to basketball or soccer. There's even a package aimed specifically at preschoolers. Basic packages include invitations, balloons, table covers, paper goods, food and beverages.
The Gym Park– Greenpoint
Otom Gym, 169 Calyer Street near Lorimer Street
Behind an unassuming facade lies this super-cool gym for kids of all ages. While parents need to supply all the extras (food, paper goods, cake, goodie bags, etc.), the Gym Park provides the fun, including an hour of gymnastics and games supervised by two staff members. Read our full review.
Powerplay – Gowanus
432 Third Avenue between 7th and 8th Streets
This beloved Brooklyn gym offers party packages for toddlers, preschoolers, kids and even adults. Choose from a variety of packages, including gymnastics, rock climbing, mini golf or Adventure Challenge—you can even combine activities. Balloons, paper goods, pizza and juice are included but parents need to supply goodie bags and cake.
Streb the School – Williamsburg
51 North 1st Street between Kent and Wythe Avenues
The activities offered at this acrobatic dance school's parties differ from your usual usual running, jumping and climbing. At Streb, kids can bounce off huge trampolines, do the flying trapeze and learn patented Pop Action moves developed by choreographer Elizabeth Streb. Aside from popcorn, parents provide all the food, cake, beverages and favors.
Ms. J's Gymnastics & Dance – Williamsburg
289 Kent Avenue between South 1st and South 2nd Streets
At this popular local gym, children ages 2 to 11 can tumble, flip, slide, jump and climb under the supervision of professional instructors. While there's a party room, parents need to bring all the items, including paper goods, food, decorations, cake and goodie bags.
Brooklyn Gymnastics Center – Bensonhurst
1635 Bath Avenue near Bay 13th Street
This serious gymnastics spot boasts top-notch equipment (balance beam, uneven parallel bars and Air Trak), great for aspiring gymnasts ages 4 and up. Packages includes invitations, paper goods, pizza, soda, balloons, party favors, a souvenir T-shirt for the birthday kid and a Carvel ice-cream cake.
Klub4Kidz – Williamsburg
More of an indoor playground than a gym, this local favorite features a four-level play structure complete with crawl tubes, slides, tunnels and web bridges where kids can romp until they drop. The basic party package includes pizza, juice, paper goods, invitations, music and dancing. But there are other packages that include additional items including cake. We visited Klub4Kidz when it opened so you can read our full review.
Brooklyn Boulders – Gowanus
575 Degraw Street near Third Avenue
We're big fans of this dedicated rock climbing gym, which offers programs for kids, grown-ups and families. Don't worry if your guests have never gone rock climbing. The staff works with all skill levels and makes sure everyone feels safe. Parents bring all the food, beverages, cake and goodie bags.
Kidville – Brooklyn
Visit the website for locations.
This national chain of play spaces has a pair of Brooklyn outposts, one in Carroll Gardens and the other in Park Slope. The preschool set can pick from a variety of themes, like superhero, princess, trains, rock and roll, or a straight up gym party. Regardless of which one you choose, all options are active and engaging. Packages include pretty much everything, even cake.
NY Kids Club – Brooklyn
Visit the website for locations.
Another play space chain, albeit a local one. Like Kidville, NY Kids Club offers a variety of themes including a gym party. One big difference: The spot hosts parties for children up to age 12 (though it's probably best for younger kids). The basic package doesn't include food, cake, balloons or party favors but the all inclusive option has everything you need.
The Little Gym – Brooklyn
Visit the website for locations.
With two borough locations, Bay Ridge/Bensonhurst and Brooklyn Heights, this chain of kids' gyms offers all kinds of athletic parties, including gymnastics, karate and dance, for children up to age 12. Parties come with two teachers and include pizza, beverages and paper goods, you bring the cake.
Gymboree – Brooklyn
Visit the website for locations.
The last of the big play space chains has two Brooklyn locations: Bay Ridge/Dyker Heights and Marine Park/Mill Basin also offers party packages for preschoolers. While most gym party places cater solely to the running and jumping set, Gymboree can accommodate new walkers and even cruisers.
Check out our Party Guide for more awesome birthday bash ideas.