Bronx Birthday Party Places for NYC Kids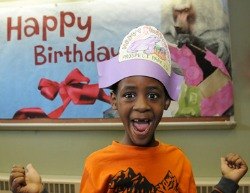 One look at our NYC Party Guide and it's clear there are a slew of birthday party places for kids in Manhattan, Brooklyn, Queens and Staten Island. But if you assume there aren't any awesome spots to celebrate your child's big day in the Bronx, think again. The Boogie Down borough actually has a small but growing list of cool party spots for kids, from old favorites like the Bronx Zoo and the New York Botanical Garden, to the recently opened Van Cortlandt Park Ice Skating Rink.
As a Bronx mom with three little ones whose birthdays are spread out throughout the year, I find myself in a perpetual state of party planning. And while we've had many a house party, I've found that once I factor in food, decorations, favors, etc., it costs just as much as a destination bash, especially in the Bronx, where packages are usually less expensive than they are in Manhattan. Plus I don't have to deal with the cleanup! Here are ten great birthday party places in the Bronx with options for kids of all ages and interests.
Van Cortlandt Park Ice Skating Rink – Fieldston
Broadway and 242nd Street
Located steps from the number 1 subway train in Van Cortlandt Park, the Bronx's sole ice-skating rink offers a variety of birthday party packages for kids. All options include invitations, admission, skate rental, party room, pizza and beverages. You supply the cake, decorations and favors. Certain packages also include a half-hour skating lesson for the guests. Prices start at $20 per child. The rink is a seasonal attraction and closes in late March but it will be back again in November.
Uptown Sports Complex – Kingsbridge
170 West 233rd Street near Broadway
This indoor athletics complex offers one-hour instructor-led gymnastics, baseball or soccer activities for parties. Can't decide? For an extra fee, you can opt for an all-inclusive sports package that includes all three. All packages include a private party room, pizza and beverages. Cake, themed party decorations and paper goods are available at an additional cost. Packages start at $425.
Kidaroo – Riverdale
Sadly this business closed in August 2014
Opened by two local moms in 2012, this Riverdale play space offers several different packages like a craftsy Scribble Art Party, a high-energy Dance Party or a Preschool of Rock Party. All packages include everything you need (supplies, cake, decorations, favors, etc.) and specific themes can be added on for an additional fee. Prices start at $449 and accommodate ages 1 to 10.
Riverdale Y – Riverdale
5625 Arlington Avenue near Independence Avenue
The Y offers lots of themed party options, including cooking, sports, gymnastics, swimming and art. Invitations, paper goods, utensils, a party host and activities are included. You provide food, cake and favors. Packages start at $315.
Bronx House – Bronxdale
990 Pelham Parkway South at Hone Avenue
Although the website doesn't offer any information about birthdays, I've been to two parties here, including one indoor pool party, and my kids had a blast. Packages start at $325. Call 718-792-1800 for more info.
Bronx Equestrian Center – Baychester
9 Shore Road
Located in Pelham Bay Park, this horse-riding school offers different packages depending on whether you're looking for pony or hayrides for the preschool set, or trail rides for more experienced equestrians. Aside from the steed and the room, you provide everything else, from invitations to food to cake, so it's a bit DIY. Packages start at $200.
Bronx Zoo – Belmont
2300 Southern Boulevard
Chances are your little animal lover has been to the Bronx Zoo, but has he ever celebrated a birthday there? The zoo's birthday party package, available October through June and aimed at children ages 2 to 12, includes food, a private room, close encounters with small animals, party games and activities, and a tour of the Congo Gorilla Forest. At $1,200 for up to 15 children, it's one of the borough's pricier option, but it's certainly memorable and you won't have to worry about a thing. Contact the education department for more details at 718-741-1678.
New York Botanical Garden – Fordham
2900 Southern Boulevard
Celebrate your kid's big day on the glorious grounds of the NYBG. Party packages are offered year-round for ages 3 to 12, and feature nature-themed crafts, scavenger hunts and gardening projects, as well as access to all exhibits. Pizza from the Bronx's own Little Italy, water and organic juices, and paper goods are included. You supply the cake. Call 718-817-8687 for full details and pricing.
Yankee Stadium – Concourse
1 East 161st Street at Macombs Dam Bridge
Yup, the new Yankee Stadium offers a Party City Birthday Bash featuring a tour of the venue, with stops at the New York Yankees Museum, Monument Park, the press box and more. If you book during baseball season, you'll also get to check out the dugout and batting cage area. Afterward, hit the onsite Hard Rock Café for food, beverages and a Carvel ice-cream cake. Invites and a Yankees souvenir for the birthday child included. Call 718-579-4594 or email for further information and pricing.
Chuck E. Cheese's – Pelham Gardens
1816 Gunhill Road near Bruner Avenue
Go ahead and groan. The fact is, kids love this cheesy game spot and the party packages are quite economical. So even if you get a headache while there, at least you won't pass out when you see the bill. Guests get game tokens, food and beverages, and the birthday kid enjoys face time with the rat-like mascot. And no need for goody bags since guests can redeem the tickets they win for kitschy prizes. You can even plan your entire party online.
Find out about other creative ways to celebrate birthdays in our Party Guide.