News: Potential School Bus Strike, Jekyll & Hyde Redux, Online Kindergarten Applications, Classic Film Series for Kids Come & Go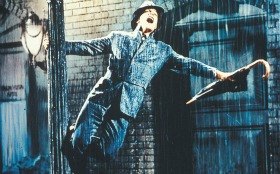 We hope you're having a happy holiday season, especially now that the big day has come and gone (no more shopping and wrapping—all that's left is to pay the credit card bills). While we're enjoying lots of family time this week just like you, the news marches on, and we've got plenty of interesting tidbits, including the launch of a pilot program that will allow parents in select districts to apply to kindergarten online, a brand-new film series for kids (and the end of another one), a possible school bus strike and a slew of new Times Square tourist traps... ahem, we mean businesses, including a big one for young horror buffs.
Next month for the first time ever, the Department of Education will allow parents in select school districts to apply to kindergarten online or over the phone. If your child turns five in 2013 and you live in district 1, 7 or 23 (all choice districts with no zoned elementary schools), you can log on or dial up the school you select beginning January 22. Of course assessing a school the old-fashioned way, i.e. visiting, is still encouraged. The goal is for all districts to offer such modern conveniences starting in 2014.
We were very sad to hear that one of our favorite film series for families, Cobble Hill's Big Movies for Little Kids, has decided to scale back its programming after a seven-year run. It will no longer be a biweekly series; instead it will only show a handful of films annually. We spoke with one of the founders and apparently it had just become prohibitively expensive. Serendipitously, Film Forum is about to launch the brand-new biweekly series Film Forum Jr.: Classics for Kids and Their Families on Sunday, January 6. The impressive lineup includes oft-seen flicks like The Red Balloon and Singin' in the Rain, and movies your kids (and you!) have probably never watched such as the silent Japanese comedy I Was Born But... and Dr. Seuss' The 5,000 Fingers of Dr. T. Tickets are $7 and every feature is preceded by shorts.
Speaking of things we love closing, we were shocked to hear that the Madame Alexander Doll Company shut the doors of its factory and museum a few months ago after more than 50 years. We'd taken a behind-the-scenes tour there in the past, and we had mentioned it in numerous posts, including our list of the 50 best things to do in Harlem with kids and where to see toys of yesteryear. The good news: The company is still in business, it's just been sold. According to its website, the doll hospital and birthday parties will start up again next year at the new 34th Street location.
Although many natives dismiss Times Square as hopelessly crowded and kitschy, there are actually cool things to do and good places to eat in the area with kids. And now, Times Square is about to get a slew of new businesses, although most of them are of the tourist trap variety. The ones of most interest to families are the new location of horror-themed restaurant Jekyll & Hyde (which closed its former midtown outpost earlier this year) and Broadway 4D, an immersive attraction that chronicles the history of the Great White Way.
It's a similar story in Coney Island, which is also getting a bunch of new additions, all chains. According to Grub Street, the devastation caused by Hurricane Sandy to area businesses helped pave the way for outposts of Applebee's, Johnny Rockets and Red Mango. Even more depressing: The stats on the proliferation of chains throughout the five boroughs. Buying local is getting harder and harder.
The French Institute on the Upper East Side is bringing its language lessons to new neighborhoods. Beginning in January, FIAF will offers classes in Carroll Gardens, Brooklyn and the East Village where toddlers through adults can learn française.
We recently posted about aerial arts classes for kids. Well come next year, we may have a new place to add. DNAinfo reports that the NYC Parks Department is hoping to open a trapeze center in the Hamilton Fish Park Recreation Center on the Lower East Side. We'll let you know if and when the new school swings open its doors.
And finally, there's a potential school bus strike on the horizon that could begin right after holiday break. Perhaps we're jaded, but we're not too worried as these things usually have a way of working themselves out. However, if your child does travel by yellow bus, make sure you're in touch with your school so you know the deal. In the event of a strike, the Department of Education will provide free MetroCards.
Tags: