New Event: Pose for a Portrait with Live Baby Chicks at Big Apple Portraits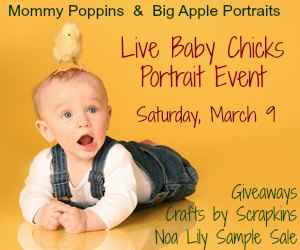 Two years ago, we discovered Portraitbug and its adorable photo sessions, which inspired us to offer a great deal on Easter portraits. It was hugely popular—I even went with my family. The photos we got from that shoot are some of the best I have of my kids, both the ones with the chicks and without.
While Portraitbug has closed, most of the staff has moved to Big Apple Portraits, which offers the same great quality and value just a few blocks away. So I'm thrilled to partner with Big Apple Portraits this year to offer Live Baby Chicks Portrait Sessions at our upcoming Mommy Poppins special event.
Join the Mommy Poppins team on Saturday, March 9 at Big Apple Portraits for a photo shoot with live baby chicks. Each family will get a portrait session and all images will be posted to your online gallery. One fully released digital image is included with your ticket (a $75 value!), and you can buy additional prints or images, order Easter cards from Tiny Prints, or purchase a photo package of any of the images in your gallery.
Because we like our Mommy Poppins events to be extra awesome, I've also invited the amazing folks from ScrapKins to lead cool, creative crafts with the kids. If you haven't come across ScrapKins at Maker Faire, the World Science Fair or one of the other places they pop up, you're in for a treat. They do great projects that turn ordinary recyclables into extraordinary art. Kids learn resourcefulness, creativity and have fun doing it. I love what they do and if you do, too, you can talk to them about their school visits or check out their book, ScrapKins Build-it Book Volume 1,
which features 12 cool projects.
Portrait sessions run from 9:30am to 7pm but ScrapKins is only there between 10am and 3pm. So if you want to check them out, book your portrait session during that time, or arrive early so you can craft before you pose.
What else do we have in store? How about a Noa Lily sample sale with beautiful Easter/special occasion dresses at 50% off. And we'll have samples from SeaSnax, delicious and healthy roasted seaweed snacks that my kids love. Plus, everyone who signs up for a portrait session by Monday, March 4 will be automatically entered to win a family four-pack of tickets to Jersey City's Liberty Science Center (a $67 value).
Sounds fun, doesn't it? Tickets to this event are only $50, because we love scoring great deals for our readers. Sign up now for your Live Baby Chicks Portrait Session on Saturday, March 9 at Big Apple Portraits, located at 143 West 72nd Street between Amsterdam and Columbus Avenues.