Best Things To Do with NYC Kids: October GoList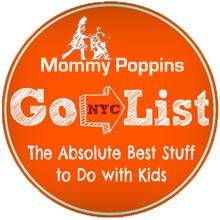 Get your calendars ready! Here are the top 15 things to do with kids in New York City this October, five of which are FREE.
Halloween may generate all the hoopla, but there are plenty of other must-do activities this month. The fall culture season kicks into high gear with amazing live entertainment, like Seattle Children's Theatre's Robin Hood at the New Victory Theater, the hilarious sketch comedy of the Story Pirates at Symphony Space and a concert by reigning kiddie rock queen Laurie Berkner. Looking for more interactive fun? Get your pets blessed in Morningside Heights, hobnob with knights at Fort Tryon Park's Medieval Festival, join a youth circus festival in Queens or don your cape for the action-packed opening of the New-York Historical Society's superhero exhibit.
As always, if an event piques your interest, be sure to click through to our listing for all the details, including address, time and pricing. Please keep in mind that the really cool (and no-cost!) kid stuff in NYC books up quickly, so buy your tickets ASAP, or, in the case of FREE events, arrive as early as possible to try to beat the crowds.
RELATED: Fall Fun Guide for Families
Robin Hood — Midtown West
Friday, October 2-Sunday, October 11
The New Victory Theater, kicks off its 20th anniversary season with Seattle Children's Theatre's uproarious take on the fictional English outlaw, who stole from the rich to give to the poor. Four talented, multitasking performers play all the parts, which makes for some stunning quick changes as both arrows and barbs fly. Due to the show's fast pace, wordplay and 100-minute running time, it's best to heed the recommended age range of 7 and up.

The Story Pirates turn tales by kids into wacky mini musicals. Photo by Jamie Salka.
The Story Pirates — Upper West Side
Saturday, October 3
We've been raving about this sketch comedy troupe for families for years and we're in great company: Jon Stewart is also a major fan. The Story Pirates take tales written by kids across the country and turn them into wacky mini musicals featuring puppets, slapstick and lots of belly laughs. Although you never know what to expect, rest assured you'll leave Symphony Space giggling. Bonus: The Upper West Side culture spot has drastically reduced the prices for its Just Kidding family performance series this year, so you can be entertained for less!

Costumed kids have been marching in Brooklyn's colorful Ragamuffin Parade since the '60s!
Ragamuffin Parade — Bay Ridge
Saturday, October 3
Since 1967, Brooklyn kids have been donning their Halloween outfits early and parading down Third Avenue in Bay Ridge alongside bands, cheerleaders and makeshift floats. All kids who participate snag a toy, and bicycles are given to the children with the most creative costumes. If you live in the neighborhood, consent forms allowing kids to march are distributed in local schools and day cares, but you can also download one from the organizer's site. FREE
Medieval Festival — Washington Heights
Sunday, October 4
Get ready to party like it's 1399! This annual fest in Fort Tryon Park is great fantasy fun, though it does get insanely crowded. Watch knights joust and other pageantry of the era, enjoy live strolling musicians, dramatic minstrels and juggling jesters, and browse period-style wares. Make sure you dress up! Velvet and corsets are almost mandatory. FREE

Enjoy the procession of animals as they come to get blessed at the Cathedral Church of St. John the Divine.
Blessing of the Animals and Feast of Saint Francis — Morningside Heights
Sunday, October 4
A celebration for animal lovers of all faiths. Bring your four- (or two- or no-) legged friends to the Cathedral Church of St. John the Divine in honor of St. Francis Day. Watch a procession of exotic animals, including alpacas, tortoises, bees and a camel, head into the church (usually around noon), and then hit the Pulpit Green to get your pets blessed starting at 1pm. There will also be a fair with dancing, face painting, vegetarian food and other activities. Note: Advance passes for the 11am service are already gone, but a few will be distributed that morning on a first-come, first-served basis. But it's more fun and less stressful to just hang outside and watch the animal parade. FREE

The Batmobile from the classic '60s Batman TV series at the New-York Historical Society's Superheroes in Gotham. (Photo: George Barris Kustom City, Batmobile, No. 3, 1966 from the collection of Dr. Stewart Berkowitz.)
Superheroes in Gotham Opening Weekend — Upper West Side
Friday, October 9-Monday, October 12
Explore NYC's role in the superhero phenomenon at the New-York Historical Society's new installation. Iconic comic book companies Marvel and DC both got their start in our city, and some of the world's most popular superheroes like Spider-Man and Daredevil live in the five boroughs. Follow the evolution of the caped crusader, how characters leaped from the page to TV to the big screen and the international comics craze. Although the exhibit stays on view through February of 2016, the four-day grand opening celebration sounds like a super blast. There will be themed activities like wrist-cuff design workshops, superhero training sessions, a scavenger hunt and photo ops with the Batmobile. Bonus: All children under age 14 get in FREE.
The Velveteen Rabbit — Chelsea
Saturday, October 10-Sunday, November 1
Margery Williams' picture book about a toy rabbit who longs to be real has been a childhood classic for almost a century. However, the narration-heavy text makes it hard to successfully adapt for the stage. But if anyone can make it work, it's Atlantic for Kids, the family theater arm of the famed Atlantic Theater Company. Reinvented as a light operetta by Cormac Bluestone and Anya Saffir, this Velveteen Rabbit is almost entirely sung through and many performers are Atlantic alumni. Don't forget to bring the tissues.
Back to the Future in Concert — Midtown West
Thursday, October 15-Friday, October 16
Introduce your tweens to the classic sci-fi comedy at Film Concerts Live!'s multimedia screening in honor of the movie's 30th anniversary. Watch the wacky, time-traveling adventures of Marty McFly on a giant, high-definition screen in Radio City Music Hall as the New Jersey Symphony Orchestra plays Alan Silvestri's original soundtrack live in sync with the action. Bonus: You'll get to hear 20 additional minutes of music written just for the occasion.
Kids Fest: Stages in the Square — Flatiron
Saturday, October 17
Madison Square Park's annual fest gets a complete makeover this year. Instead of just one there will be three stages of live family entertainment with some big names in little-kid entertainment like family rockers Joanie Leeds & The Nightlights, sketch comedy stalwarts the Story Pirates, comedic magician The Amazing Max and singing storyteller Story Laurie. There will also be interactive music, mime and drumming workshops along with face painting and a costume swap. Plus the whole shebang lasts five hours as opposed to the former three. FREE

Learn to spin plates like a pro and other offbeat skills at the annual New York Regional Youth Circus Festival.
New York Regional Youth Circus Festival — Long Island City
Saturday, October 17
If you have one of those kids that wants to run away and join the circus, don't miss the American Youth Circus Organization's annual day-long intensive for big-top wannabes at Circus Warehouse. No experience is necessary! Children ages 8 and up choose four workshops led by industry pros (aerial silks, juggling, clowning, unicycling, hula hopping, trapeze, tightrope and acrobatics are just some of the skills on offer), and there's a youth showcase at the end of the day. It's a really inspiring experience, especially for kids new to circus arts who get to meet some of their more seasoned peers. Buying advance tickets is a must.

Singer-songwriter Laurie Berkner is still a kid at heart, which might be why preschoolers love her!
Laurie Berkner Band: Greatest Hits Tour — Upper West Side
Saturday, October 17
Catch preschool rock icon Laurie Berkner and her band as they play their annual autumn concert at the New York Society for Ethical Culture. This year's theme is greatest hits so expect to hear tunes from throughout her almost 20-year career including "We Are the Dinosaurs," "Telephone" and her whimsical cover of "The Cat Came Back." Tots are encouraged to bring their favorite loveys to boogie with.
Open House New York – Citywide
Saturday, October 17-Sunday, October 18
For one weekend every October, hundreds of New York City's historic buildings and architectural marvels—including private residences, cultural institutions and offbeat spots like cemeteries and artist studios—open their doors to the public as part of OHNY. The complete list of sites will be posted on the website on Wednesday, October 7, but we do know about one big change: there's no Family Festival as in years in past. However, a couple dozen spots will offer FREE family activities during the two-day event, some drop-in, others requiring advance registration and a small fee. Be sure to check the schedule the day it goes up. Lots of popular tours book up super-fast. Mostly FREE
Guys Read: Terrifying Tales — Upper West Side
Sunday, October 25
Celebrate the release of Terrifying Tales, the latest installment in the Guys Read book series, at Symphony Space's Thalia Book Club. Jon Scieszka (The Stinky Cheese Man), Dav Pilkey (The Adventures of Captain Underpants), Michael Buckley (N.E.R.D.S.) and other contributing authors will be on hand to read from the tome, sign copies and lead young bookworms in a writing activity. Make sure your kids wear their most impressive costumes for a chance to win a full Guys Read set.
Children's Fall Festival — Glen Oaks
Sunday, October 25
Celebrate the season at the Queens County Farm Museum's massive bash featuring traditional amusements like sack races and pig races, live music, bouncy houses, a haunted house, pony rides and a petting zoo. Families are encouraged to attend in costume, and this is the last day to hit the farm's Amazing Maize Maze and pumpkin patch.
Halloween – Citywide
Throughout October
We can't curate a list of the best things to do with kids in October without mentioning Halloween! But there are so many parades, parties and celebrations around town throughout the month, it's impossible to pick just one. That's why we have an entire Halloween Guide. We'll be updating our annual posts about Halloween parades, no-cost Halloween events and the top Halloween celebrations for NYC kids over the next few weeks so don't be scared! We've got you covered.
RELATED: Best Apple and Pumpkin Picking Near NYC
Honorable Mentions
NYC always has so many incredible things going on, it's difficult to choose. So here are a few more cool events (mostly FREE) that are worth considering for your October calendar. Be sure to sign up for our FREE newsletters so you can get our weekend picks delivered to your inbox every Thursday morning and weekday picks by Sunday evening.
Pick the perfect jack-o'-lantern at a nearby pumpkin patch.
Head to Hudson River Park's Pier 26 to learn about coastal waters at the annual Submerge! NYC Marine Science Festival on Saturday, October 3. FREE
Sample a wide variety of the Lower East Side's signature snack at Pickle Day on Sunday October 4. FREE
Enjoy readings by some of Ireland's top kiddie authors at the Rí Rá Children's Festival of Literature on Sunday, October 4.
Watch dozens of ships cruise up the Hudson River during the Waterfront Alliance's Parade of Boats on Monday, October 5. FREE
Discover how Pixar's amazing animated movies are made at the Cooper Hewitt's new Process Lab exhibit, which opens on Thursday, October 8.
See 30 plays in 60 minutes at the first-ever family matinee of Too Much Light Makes the Baby Go Blind, the long-running show by cutting-edge theater troupe the New York Neo-Futurists, on Saturday, October 10-Sunday, October 11.
Donate your gently used books to the Brooklyn Public Library's Great American Book Drive or pick up new-to-you titles for just a buck on Saturday, October 17. FREE
See how much minutiae you know about Kermit, Miss Piggy and the rest of the gang at the Museum of the Moving Image's second annual Muppet Trivia Spectacular on Sunday, October 18.
Marvel at amazing acrobats and animal acts at the Big Apple Circus' brand-new spectacle The Grand Tour at Lincoln Center, which opens Wednesday, October 21.