Best Things to Do with NYC Kids: October Go List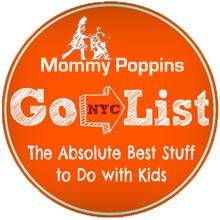 October always brings fall fun like harvest festivals, pumpkin picking and a host of Halloween happenings. But our October Go List also includes some awesome non-seasonal events, like a few exceptional family theater shows, the grand opening of Manhattan's new Lego Store, a day-long youth circus festival, and returning favorites the Blessing of the Animals and Open House NY.
As always, if an event piques your interest, be sure to click through to our listing for all the details, including address, time and recommended ages. And keep in mind: In NYC, really cool things to do with kids often get booked up quickly. So buy your tickets ASAP or, in the case of FREE events, arrive as early as possible to try to beat the crowds.
Now get your calendars ready! Here are the top 12 things to do with kids in New York City this October, four of which are FREE.
Blessing of the Animals and Feast of Saint Francis – Morningside Heights
Sunday, October 5
A celebration for animal lovers of all faiths. Bring your four- (or two- or no-) legged friends to the Cathedral Church St. John the Divine in honor of St. Francis Day. Watch a procession of exotic animals, including alpacas, tortoises, bees and a camel, head into the church (usually around noon), and then hit the Pulpit Green to get your pets blessed starting at 1pm. There will also be a fair with dancing, face painting, a performance by the Mettawee River Theatre Company, vegetarian food and other activities. Note: Advance passes for the 11am service are sold out but a few will be distributed that morning on a first-come, first-served basis. Personally, I think it's more fun to just hang outside and watch the animal parade. FREE
Grand Opening of the New Lego Store – Flatiron
Friday, October 10-Monday, October 13
Everything is awesome now that the long-awaited flagship Lego Store is officially debuting over Columbus Day weekend (though it's actually already open if you want to check it out early). My Lego-loving nine-year-old can't wait to participate in the grand opening festivities, like helping master builders create a 20-foot replica of the Statue of Liberty in nearby Madison Square Park. Inside the 3,500-square-foot store, you'll find recreations of NYC landmarks, and a Flatiron Building-inspired Lego lounge where kids can build, curl up with a book or just chill out (parents can charge their gadgets here, too). Plus there will be regularly scheduled events like FREE mini model builds and club meetings, and special opening weekend sales and exclusive offers. Having participated in the Rock Center store's opening activities four years ago, I can tell you from experience, arrive early, especially if you want to work with the master builders! FREE
Little Red Lighthouse Festival – Washington Heights
Saturday, October 11
Although this fest in Fort Washington Park is officially part of Open House NY (more on that below), it's such a big annual favorite we wanted to spotlight it on its own. Explore the interior of Manhattan's only remaining lighthouse, made famous in Hildegarde H. Swift's 1942 children's book The Little Red Lighthouse and the Great Gray Bridge. Take note: Tickets for the tours are distributed starting at noon but the line for them begins forming hours before, so plan ahead! Can't stand waiting around? The fest also features great food, fishing, fantastic views and readings of Swift's classic. FREE
Open House NY – Citywide
Saturday, October 11-Sunday, October 12
Every Columbus Day weekend, hundreds of New York City's historic buildings and architectural marvels—including private residences, cultural institutions and offbeat spots like cemeteries and artist studios—open their doors to the public as part of OHNY. The complete list of sites will be posted on the website starting Tuesday, September 30, and you can make online reservations for specific tours beginning Wednesday, October 1 at 11am. Some places offer special kids' activities so keep an eye out. And as always, the Center For Architecture Foundation in Greenwich Village is hosting the OHNY Weekend Family Festival featuring hands-on projects for children. You can drop in to many FREE activities while others require advance reservations and a small fee. Be sure to check the schedule before you go! Lots of popular tours book up super-fast. Mostly FREE
The 7½ Mysteries of Toulouse McLane – Upper East Side
Monday, October 13, Saturday, October 18 and Sunday, October 19
The endlessly imaginative Trusty Sidekick Theater Company debuts a new immersive show for tweens and teens at the Park Avenue Armory. Try to figure out the deal with the elusive Toulouse McLane as you explore the stately building. Throughout the interactive performance, characters talk to you one minute and forget you the next, scenes repeat over and over, and you count down to midnight multiple times. To say more would give too much away! Inspired by a true-life story, it's an eerie and unforgettable experience that proves family shows can be as innovative and arresting as grown-up theater. $6
Cirque Alfonse: Timber! – Greenwich Village
Tuesday, October 14-Sunday, October 19
Head to the NYU Skirball Center to catch this Quebecois circus with a fun rural twist. No sequins or spandex here: All of its props and apparatus are fashioned from trees and farm equipment. Watch as performers styled like lumberjacks juggle axes, spin on wagon wheels and jump through circular saws, as a live fiddle band plays traditional Canadian folk songs. With no extraneous flash, the focus is strictly on the feats. $39-$65 but save on tickets through our affiliate Goldstar
NYC American Youth Circus Festival – Long Island City
Saturday, October 18
Or maybe your kid is more interested in joining the circus than watching one. If that's the case, don't miss the American Youth Circus Organization's annual day-long intensive for aspiring circus stars at Circus Warehouse. No experience is necessary! Children ages 8 and up choose four workshops led by industry pros (silks, juggling, clowning, unicycling, hula hopping, trapeze, tightrope and acrobatics are just some of the skills on offer), and there's a youth showcase at the end of the day. It's a really inspiring experience, especially for kids new to circus arts who get to meet some of their more seasoned peers. Raven's nine-year-old daughter has done it twice and it shows in her mean hula-hooping and plate-spinning skills. This event always sells out so preregistration is required. $65 for children, $25 for chaperones; kids' tickets go up to $80 after October 1.
Raffi in Concert – Upper East Side
Sunday, October 19
Multiple generations of kids grew up listening to Raffi and his catchy songs like "Baby Beluga," "Bananaphone" and "Down by the Bay." Now the "Children's Troubadour" is back to charm the current crop of tots with a pair of concerts at the Kaye Playhouse in support of his new album Love Bug. Tickets are already on sale and going fast! $35-$66
Ivy + Bean, The Musical – Chelsea
October 18-November 9
Annie Barrows' best-selling children's book series about the mischievous adventures of an unlikely pair of eight-year-old BFFs—loud and goofy Bean and shy and creative Ivy—really resonates with kids. So we have high hopes for this musicalized origin story of their friendship, mounted by one of NYC's best family theater companies, Atlantic for Kids. $20 for adults, $15 for children
Puppets on Film – Fort Greene
Friday, October 24-Sunday October 26
Catch puppet masters in action at BAM Rose Cinemas' annual weekend-long film festival. While not specifically aimed at children, the fest features family-friendly titles like Muppets Most Wanted, Return of the Jedi and a screening of The Dark Crystal where fans are encouraged to come in costume. Other highlights include a documentary about Caroll Spinney, the man behind Sesame Street's Big Bird, and puppetry workshops for kids, even one hosted by Noel MacNeal from Between the Lions. See our event listing for the complete schedule. Advance tickets recommended. Screenings are $14 per person except Muppets Most Wanted, Davy Jones Locker and Shortstack, which are $10 for adults, $7 for children under age 13. Kids' puppet workshops are $7.
Children's Fall Festival – Glen Oaks
Sunday, October 26
My family loves this seasonal fete at the bucolic Queens County Farm Museum. Celebrate all things autumn at this massive bash featuring traditional games like sack races and find the trinkets in the haystack, live music, bouncy houses, a haunted house, pony rides and a petting zoo. Families are encouraged to attend in costume, and this is the perfect day to hit the farm's Amazing Maize Maze and pumpkin patch. $5 admission but there are additional fees for certain activities
Halloween – Citywide
Throughout October
We can't curate a list of the best things to do with kids in October without highlighting Halloween! But there are so many parades, parties and celebrations around town throughout the month, it's impossible to pick just one. That's why we have an entire Halloween Guide. We'll be updating our annual posts about Halloween parades, no-cost Halloween events and the top Halloween celebrations for NYC kids over the next few weeks. Make sure you browse our Halloween Guide for even more fun.
 
Honorable Mentions
NYC always has so many incredible things going on, it's difficult to choose. So here are 10 more cool events (mostly FREE) that are worth considering for your October calendar. Be sure to sign up for our FREE newsletters so you can get our weekend picks delivered to your inbox every Thursday morning.
Pick the perfect jack-o'-lantern at a nearby pumpkin patch.
Grab headphones, instructions and a box of props, and then decide what to do with them at the interactive children's show Partituur at New York Live Arts on Saturday, October 4 and Sunday, October 5.
Celebrate the sweet, sticky stuff (and the bees that produce it) at Wave Hill's Honey Weekend on Saturday, October 4 and Sunday, October 5.
Head to Pier 26 in Hudson River Park to learn about NYC's coastal waterways at Submerge! NYC Marine Science Festival on Sunday, October 5. FREE
Watch the Metropolitan Waterfront Alliance's Parade of Boats as dozens of vessels cruise down the Hudson River on Monday, October 6. FREE
Donate your gently-used books to the Brooklyn Public Library's Great American Book Drive or pick up new-to-you titles for just a buck on Saturday, October 11. FREE
Enjoy storytime, giveaways, games and face time with a surprise guest during the NYPL's Sesame Street exhibit's family day on Monday, October 13. FREE
Gawk at amazing acrobats and animal acts at the Big Apple Circus's brand-new show Metamorphosis at Lincoln Center, which starts Friday, October 17.
Sample a wide variety of the Lower East Side's signature snack at Pickle Day on Sunday October 19. FREE
Enter your best home-baked goodie into the Sugar Sweets Festival's blue ribbon competition, or stop by to try other people's treats on Saturday, October 25. FREE