Best Things To Do with NYC Kids: November GoList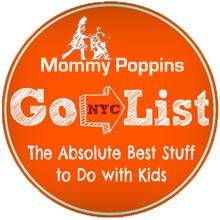 Get your calendars ready! Here are the top 14 things to do with kids in New York City this November, eight of which are FREE.
While Macy's Thanksgiving Day Parade may be the month's main event, it's certainly not the only must-do outing to put on your family calendar. November is when high-end department stores unveil those festive holiday windows, spectacular light displays go up in Dyker Heights and other festive neighborhoods, and Santa flies into town for a month-long stay at Macy's Santaland. And if you already feel your inner Scrooge coming on, don't worry: There are some fantastic non-holiday events for families, too, like the opening of the American Museum of Natural History's new interactive installation The Secret World Inside You, a high-energy concert by two-time Grammy nominee Justin Roberts and the Brooklyn Museum's annual Children's Book Fair.
As always, if an event piques your interest, be sure to click through to our listing for all the details, including address, time and pricing. Please keep in mind that the really cool (and no-cost!) kid stuff in NYC books up quickly—especially as the holidays approach—so buy your tickets ASAP, or, in the case of FREE events, arrive as early as possible to try to beat the crowds.
RELATED: Thanksgiving in NYC Guide

The incredible Canstruction sculptures are made entirely of cans of food!
Canstruction — Battery Park City
Thursday, November 5-Monday, November 16
Every fall, my family and I head to Brookfield Place for this amazing display that benefits food insecure families. For the 23rd year, inventive teams of architects, engineers, contractors and students design detailed sculptures constructed entirely from full cans of food. Last year we got some awesome pics of the pieces, which often reference pop culture—check out these Despicable Me Minions and an AT-AT walker from The Empire Strikes Back. Once the exhibition is dismantled, all the cans are donated to City Harvest, and visitors are encouraged to bring cans of food for the charity, too. It's a wonderful way to kick off the holiday season. FREE but bring cans of food to donate 
Barnes & Noble Mini Maker Faire — Manhattan, Brooklyn & Queens
Friday, November 6-Sunday, November 8
Are your kids tinkerers, inventors or makers? Well of course—all children are! Feed their creativity at Barnes & Noble's first-ever mini Maker Faire, cosponsored by Make Magazine (the folks behind the awesome annual fest at the New York Hall of Science every September). For three days, families can drop in to most NYC locations of the national chain to catch cool demos of 3D printers, drones, robots, computer coding software and other state-of-the-art technology. Additionally, select outposts will host Q&As with local makers and hands-on activities like Lego robotics, snap circuits, littleBits electronic building blocks and paper machine design. The lineup varies by location so be sure to check the calendar of the Barnes & Noble nearest you to find out what's on tap. FREE
Before We Grew — Park Slope
Saturday, November 7-Sunday, November 15
Spellbound Theatre has always specialized in creating shows for the preschool set, but this is the first time the Brooklyn-based troupe has crafted a production that caters to children on the autism spectrum. Audiences take a virtual, multisensory trip through Brooklyn's past in the historic Old Stone House. With a 40-minute running time and lots of interactive elements, it's a perfect first-time theater experience for all tots, which is why Saturday performances are open to the general public. Sunday shows, however, are reserved for special needs families and feature smaller audiences and additional staff members to better serve children with autism.
The Secret World Inside You — Upper West Side
Saturday, November 7-Sunday, August 14, 2016.
Did you know you've got lots of tiny microbes living inside your body? Get an in-depth look at these invisible to the naked eye organisms like fungi, bacteria and viruses, and learn how they affect your health through interactive stations and videos. The highlight will be the live theater, where an educator explains how scientists are making strides in this relative new field of study, and answers any questions posed by inquiring (and possibly slightly grossed-out) minds. Free with General Admission Plus One

Young readers will love the Brooklyn Museum's ninth annual Children's Book Festival. Photo by Debra Reyes, courtesy of the museum.
Children's Book Fair — Crown Heights
Saturday, November 14
Celebrate quality kid lit at the Brooklyn Museum's ninth annual fest. Brooklyn-based children's book authors Julia Sarcone-Roach (The Bear Ate Your Sandwich), Abby Hanlon (Dory and the Real True Friend) and Michael Hearst (Extraordinary People) will read from their work, while illustrators Tad Hills (Duck & Goose books) and Aaron Meshon (Tools Rule!) will lead coloring activities. A slew of other popular authors, including Brian Floca (Locomotive), Peter Brown (My Teacher Is a Monster!), David Ezra Stein (Interrupting Chicken) and Sophie Blackall (illustrator of Ivy and Bean), will also be on hand to greet their young fans and sign their titles. FREE
Justin Roberts...Unplugged! — Upper West Side
Saturday, November 14
One of the top acts in kindie rock, this two-time Grammy nominee is unplugging his guitar for this intimate Symphony Space concert that's sure to please the preschool set. Roberts will be playing high-energy tunes off Recess, Jungle Gym and his other popular albums that celebrate how much fun it is being a kid. Come prepared to sing and clap along.
Star Wars and the Power of Costume — Midtown West
Saturday, November 14-Monday, September 5, 2016
If your family is counting down the days until The Force Awakens on Friday, December 18, indulge your Star Wars obsession a month earlier at Discovery Times Square's new installation featuring 70 handmade costumes from the first six movies in the sci-fi saga. Check out Chewbacca's furry pelt, Stormtrooper and bounty hunter armor, Queen Amidala's gorgeous gowns and, of course, Darth Vader's unmistakable mask. There will also be outfits from the upcoming flick and behind-the-scenes video. There are no hands-on elements, so the exhibition is probably best for school-age Star Wars fans. Definitely bring sketch books!
Battle of Fort Washington — Washington Heights
Sunday, November 15
Is there any better way to learn about history than to watch it live in action? That's exactly what kids can do at the 239th anniversary of this epic Revolutionary War battle in the stunning Fort Tryon Park. In addition to meeting and mingling with members of the Brigade of the American Revolution to find out what life was like during the war, families can watch blacksmithing demos, hear live 18th-century music, make crafts and play games of the era, and tour the battlefield with heroine Margaret Corbin. Dress up for the occasion: celebrants in the most authentic costumes win prizes. FREE
New York Botanical Garden Holiday Train Show — the Bronx
Saturday, November 21-Monday, January 18, 2016
The NYBG's annual holiday show is a must-see for tourists and locals alike. In fact, it's No. 53 on our list of 100 things to do with kids in NYC. More than 25 model trains (including Thomas the Tank Engine!) go whizzing by approximately 150 NYC landmarks meticulously made out of acorns, twigs, bark, berries and leaves. This year brings a few enhancements to the iconic display, including a short behind-the-scenes documentary about how these gorgeous replicas are made, 3,000 square feet of additional space allowing visitors to walk around some of the most intricate buildings and a 1964 World's Fair-themed multisensory finale with sound and light effects. Afterward, kids can hit the Evergreen Express in the Everett Children's Adventure Garden to make train puppets, march in musical parades and craft miniature scented sachets. Warning: Even though timed advance tickets are required, it gets super crowded. If at all possible, go early or late in the season on a weekday.

Hello Kitty is just one of the iconic character balloons you'll see at Macy's Thanksgiving Day Parade.
Macy's Thanksgiving Day Parade & Balloon Inflation — Upper West Side to Midtown West
Thursday, November 26
We probably don't need to sell you on this world-famous NYC tradition. The only thing that isn't family-friendly about this procession of pop-culture inspired floats and giant balloons is the fact that you need to arrive around 6am to stake out your spot. Unfortunately, there is no secret to snagging a good viewing location unless you're willing to splurge on a hotel room overlooking the route. There is, however, a great trick for beating the lines at the annual balloon inflation the night before—spend the day at the American Museum of Natural History! As for the parade itself, arrive early or watch from way in the back. You'll still see something. Or find a friend (or a friend of a friend) who lives on the route. Put a call out on Facebook—you never know. Wherever you watch from, expect a thrilling lineup of celebrities, marching bands, colorful floats, kooky clowns and massive balloons, from old favorites like Hello Kitty and the Pillsbury Doughboy to new additions like Scrat the squirrel from Ice Age and the red Angry Bird, both set to make their debuts this year. FREE
Holiday Windows Walk — Midtown East
Thanksgiving-New Year's Day
All of the major department store holiday displays (Macy's, Saks Fifth Avenue, Lord & Taylor, Bergdorf Goodman, Barneys, etc.) are up by the week of Thanksgiving, and crowds are surprisingly sparse that holiday weekend, especially compared to later in the season. While our annual holiday windows walk post won't go up until early December (check out our slide shows from 2014, 2013, 2012, 2011, 2010 and 2009!), you don't need to wait for our photos to know they're all must-sees. So put this on your family calendar for Thanksgiving weekend and work off some of that turkey on your tour. FREE
Dyker Lights — Dyker Heights
Thanksgiving-New Year's Day
Another seasonal sight that goes up around Thanksgiving? The over-the-top holiday displays in Dyker Heights. While paying to go on a guided bus tour may be most convenient if you live outside of Brooklyn, the neighborhood is accessible via public transportation, just be prepared to walk a bit. As someone who loves all things outrageous and colorful, Dyker Heights is a destination I visit year after year, even though most of the displays don't change that much if at all. If you've been and want to see something different, try the Christmas House in the Bronx or Santa's Corner in Whitestone, Queens. You won't find a critical mass of Christmas lights in either of those neighborhoods but those one-offs are worth traveling for. FREE if you go on a do-it-yourself tour
RELATED: NYC Holiday Fun Guide

You're never too old for Old St. Nick at Macy's Santaland.
Santaland at Macy's Herald Square — Midtown West
Friday, November 27-Thursday, December 24
Ever since my daughter was born 10 years ago, my family and I have taken her to Macy's to sit on Santa's lap and get her photo taken. It's amazing to see all of those pictures in a row. Even though there's usually an hours-long line (we're the dummies who put it off until Christmas Eve), it's worth the wait. Still, I urge you to go early in the morning in November—I hear from friends that it's much less crowded, or grab one of the timed tickets from kiosk to skip the line if you have wiggly, impatient toddlers in tow. The famed store mounts an entire North Pole village, with live elves, an enchanted forest featuring animatronic toys and a train display. Even if you do end up on a long line, there's so much to gawk at the kids don't mind the wait (much). Once you finally do make it to the front, you're rewarded with face time with the one true Santa.
Winter's Eve at Lincoln Square — Lincoln Square
Monday, November 30
A tree lighting at Dante Park kicks off this huge neighborhood holiday celebration. From the Time Warner Center to 68th Street, enjoy tons of free entertainment and reasonably priced ($1-$4) food tastings from the area's many restaurants. This year, kid-centric attractions include live music from the Chapin Family and the Dream Jam Band, a performance by Big Apple Circus clown Joel Jeske as Jack Frost: The Original Mr. White Christmas, face time with Santa, holiday hat decorating and a parade of jaw-dropping giant frost puppets made by the talented folks behind the annual Morninside Lights procession. Of course a lot of the grown-up entertainment sounds great for families, too, including TD Bank's retro dance party, Chinese Lion Dancers, a mariachi band, a hula hooper and Okamoto Studio's amazing ice-carved creations. While most activities are FREE, attendees are encouraged to drop off new or gently used coats for New York Cares Coat Drive. Visit the website for a list of drop-off locations and a complete schedule of events. I highly recommend you plan what you want to do in advance as Winter's Eve is always insanely crowded. FREE
Honorable Mentions
NYC always has so many incredible things going on, it's difficult to choose. So here are 10 more cool events that are worth considering for your November calendar. Be sure to sign up for our FREE newsletters to receive our weekend picks delivered to your inbox every Thursday morning.
There's no school on Election Day, so head to Highbridge Park for a Fall Field Day featuring a wide variety of games, plus Snoopy from the new Peanuts Movie on Tuesday, November 3. FREE
Introduce your toddlers to the magic of live entertainment at the New Victory Theater's wordless interactive show White created especially for ages 2 to 5. Wednesday, November 4-Sunday, November 22.
Celebrate Diwali, the Hindu Festival of Lights, at a festive Family Day at the Asia Society on Saturday, November 7.
Learn about our nation's epic fight for independence in the action-packed, hour-long show The American Revolution at Lincoln Center on Saturday, November 7.
Introduce your brood to the music of Mozart at the Little Orchestra Society's new classical concert series for kids at the Kaye Playhouse on Saturday, November 7 and Sunday, November 8.
Go on an old-fashioned outdoor treasure hunt with a compass and map on Randall's Island on Saturday, November 14. FREE
Giggle at the wacky antics of Parallel Exit, a trio of physical comedians who bring vaudeville-style slapstick to the central branch of the Brooklyn Public Library on Saturday, November 14. FREE
Watch kids show off their amazing circus skills in Coney Island at the biannual Bindlestiff Cavalcade of Youth on Sunday, November 15.
Go on a DIY fall foliage walk right here in NYC or take a scenic day trip before the leaves are all gone. FREE
See one of the many versions of The Nutcracker that are dancing into town.