Best Things to Do with NYC Kids: November GoList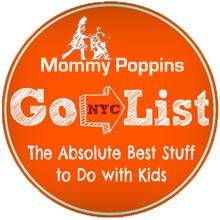 Macy's Thanksgiving Day Parade may be November's main event but it's certainly not the only must-do outing to put on your family calendar. Even though holiday celebrations kick into high gear in December, many beloved seasonal happenings start in late November. It's when high-end department stores unveil their magical windows, spectacular holiday displays go up in Dyker Heights and other festive neighborhoods, and Santa flies into town for a month-long stay at Macy's Santaland. And if you already feel your inner Scrooge coming on, don't worry: There are some fantastic non-holiday events for families, too, like a star-studded celebration of author E.B. White, the eye-popping New York Festival of Light in Dumbo and Brooklyn Museum's annual Children's Book Fair.
As always, if an event piques your interest, be sure to click through to our listing for all the details, including address and time. And keep in mind: In NYC, really cool things to do with kids often get booked up quickly—especially as the holidays approach. So buy your tickets ASAP or, in the case of FREE events, arrive as early as possible to try to beat the crowds.
Now get your calendars ready! Here are the top 15 things to do with kids in New York City this November, seven of which are FREE.
Dan Zanes Song Gusto Hour – Upper West Side
Saturday, November 1
Groove to the Grammy-winning granddaddy of multiculti kids' rock at this one-day only concert at Symphony Space. But don't just sit there—fans are invited to sing and even play along (bring your own instruments!), giving this special performance a cool communal vibe. Don't know his songs well enough to participate? Well, that's OK, too. Zanes and his talented pals always make everyone feel welcome, even newbies. $26 for adults, $16 for children
Day of the Dead – East Village
Saturday, November 1-Sunday, November 2
Day of the Dead—or Día de los Muertos as it's known in Spanish—is observed by many Hispanic cultures. While it has no relation to Halloween, it occurs around the same time and features many of the same trappings (skulls, colorful outfits, parades, etc.). Revelers honor friends and family members who have passed on by building altars and adorning them with colorful paper flowers, grinning skeletons and candles. It's a really joyful way to celebrate the deceased without freaking kids out. Mexican culture organization Mano a Mano throws one of the best Day of the Dead events in NYC at St. Mark's Church in the East Village. The two-day fest includes live performances, a traditional dance procession and a communal altar where you can place photos and other remembrances of your dead loved ones. FREE
New York Festival of Light – Dumbo
Thursday, November 6-Saturday, November 8
Marvel at the magic of light at this first annual fest held outdoors in the funky neighborhood of Dumbo. The three-day event features a wide variety of performances and installations that take place in the evening. While the whole thing sounds like an eye-popping experience for all ages, highlights for families include Howard Ungerleider's high-tech laser light show complete with smoke in the Archway under the Manhattan Bridge, a performances by Off-Broadway favorite iLuminate, and Tupac Martir's exhibition of umbrellas with LEDs that are triggered by sensors to create different patterns of sound and light. FREE
Canstruction – Battery Park City
Thursday, November 6-Thursday, November 20
Every fall, my family and I head to Brookfield Place for this whimsical display that benefits local food insecure families. For the 22nd year, inventive teams of architects, engineers, contractors and students are designing amazingly detailed sculptures constructed entirely from full cans of food. Last year, we got some awesome pics of the pieces, like these Despicable Me Minions, an AT-AT walker from The Empire Strikes Back and a recreation of Nathan Sawaya's famous "Yellow" Lego sculpture. I can't wait to see what's in store this year. As you can see from our 2013 pictures, it's a great place for photo ops. Once the exhibition is dismantled, all the cans are donated to City Harvest, and visitors are encouraged to bring cans of food for the charity, too. It's a wonderful way to kick off the Thanksgiving holiday season. Bonus: From Tuesday, October 27 to Friday, November 14, you can also check out past Canstruction favorites at three other Brookfield properties: One Liberty Plaza, 245 Park Avenue and the Grace Building. FREE but bringing cans of food to donate is encouraged
360 Allstars – Midtown West
Friday, November 14-Sunday, November 30
Talk about an extreme mash up: This spectacle at the New Victory Theater showcases seven award-winning stars in very different but equally thrilling fields. Marvel at the mad skills of a championship basketball player, BMX biker, acrobat and a pair of battling break-dancers, set to the pulsating rhythms of a live beat boxer. Great for families who prefer spectacle to plot-driven shows. Want to save a few bucks? We're hosting a special Mommy Poppins Night on Saturday, November 22 when you can save 20% on tickets and enjoy an exclusive cookie decorating activity after the performance. $15-$38
Children's Book Fair – Crown Heights
Saturday, November 15
Celebrate quality kid lit at the Brooklyn Museum's eighth annual fest. Brooklyn-based children's book authors and illustrators including Adam Auerbach (Edda: A Little Valkyrie's First Day of School), Peter Brown (My Teacher Is a Monster!) and Sophie Blackall (illustrator of Ivy and Bean) will read from their recent titles. Plus there will be hands-on activities and photo ops for all ages. Free with suggested admission: $16 for adults, free for children under age 20
The Amazing Adventures of Harvey and the Princess – Midtown West
Saturday, November 15-Sunday, December 7
The last time kindie rock queen Laurie Berkner collaborated on a musical with Making Books Sing (recently rechristened New York City Children's Theater), they made the little-kid hit Wanda's Monster. So it's no surprise the songwriter and family theater company are teaming up again for this tuner based on Loryn Brantz's picture book Harvey the Child Mime. Happy tot Harvey accidentally gets shipped overseas in an imaginary box. Soon he's making royal new friends and teaching them about fun and togetherness. Sounds like cultural catnip for the preschool set. $25
New York Botanical Garden Holiday Train Show – the Bronx
Saturday, November 15-Monday, January 19, 2015
The NYBG's annual holiday show is a must-see for tourists and locals alike. In fact, it's No. 52 on our list of 100 Things to Do with Kids in NYC. Model trains go whizzing by more than 140 NYC landmarks meticulously made out of acorns, twigs, bark, berries and leaves. Afterward, kids can hit the Evergreen Express in the Everett Children's Adventure Garden to make train puppets, march in musical parades and craft miniature balsam fir pillows from natural materials. Admittedly, the display doesn't change much from year to year but many families I know go annually—it's a fun holiday tradition. Warning: Even though timed advance tickets are required, it gets super crowded. If at all possible, go early or late in the season on a weekday! $20-$28 for adults, $10-$16 for children ages 2-12
Thalia Kids' Book Club: Terrific Tails – A Celebration of E.B. White
Sunday, November 16
Bask in the brilliance of beloved children's book author E.B. White, who wrote the classics Charlotte's Web, The Trumpet of the Swan and Stuart Little, which is set right here in NYC. Luminaries such as Frasier's David Hyde Pierce, Tony Award-winner Liev Schreiber and Saturday Night Live alum Jane Curtin will read—make that perform some of his best known work for kids, along with White's granddaughter, stepson and others at this one-night-only celebration at Symphony Space. $25
Battle of Fort Washington – Washington Heights
Sunday, November 16
Is there any better way to learn history than to watch it live in action? That's exactly what kids can do at the 238th anniversary of this epic Revolutionary War battle in the stunning Fort Tryon Park. In addition to meeting and mingling with members of the Brigade of the American Revolution to find out what life was like during the war, families can watch blacksmith demos, listen to local historians, and try period arts and crafts. FREE
Mummenschanz – Greenwich Village
Thursday, November 20-Sunday, November 30
I remember watching Mummenschanz on The Muppet Show as a child and begging my mom to take me to see the show. Well, she did, and now I'm going to get a chance to introduce my kid to the visual magic of this incredibly inventive Swiss mime troupe at the Skirball Center for the Performing Arts. For four decades, the talented performers have used wire, fabric, giant inflatables and puppetry to enhance their wacky pantomimes. Their funny and fast routines, like using toilet paper for eyes or molding clay masks into hilarious expressions, are better seen than described so thank goodness for YouTube. We raved about Mummenschanz's last NYC engagement a few years back and we're looking forward to seeing the mimes in action again. Just remember, the 80-minute show is completely silent so it's best for older children who can stay quiet. $49-$85 but save on select performances at BroadwayBox.com.
Macy's Thanksgiving Day Parade & Balloon Inflation – Upper West Side to Midtown West
Thursday, November 27
I doubt I need to sell you on this iconic NYC tradition. The only thing that isn't family-friendly about this procession of pop-culture inspired floats and giant balloons is the fact that you need to arrive around 6am to stake out your spot. Unfortunately, there is no secret to snagging a good viewing location unless you're willing to splurge on a hotel room overlooking the route. (There is, however, a great trick for beating the lines at the annual balloon inflation the night before!) As for the parade itself, arrive early or watch from way in the back. You'll still see something! Or find a friend (or a friend of a friend) who lives on the route. (That's what I did. Put a call out on Facebook—you never know!) We're still in the process of updating our comprehensive post about the parade and the balloon inflation, but we'll be sharing absolutely everything you need to know three weeks before Turkey Day! FREE
Holiday Windows Walk – Midtown East
Thanksgiving-New Year's Day
Every Saturday after Thanksgiving, fellow Mommy Poppins blogger Stephanie and I and our families get together for our annual department store holiday windows walk. All of the major displays (Macy's, Saks Fifth Avenue, Lord & Taylor, Bergdorf Goodman, Barneys, etc.) are up by the week of Thanksgiving, and the crowds are surprisingly sparse, especially compared to later in the season. While our annual holiday windows walk post won't go up until early December (check out our slide shows from 2013, 2012, 2011, 2010 and 2009!), Thanksgiving weekend is a great time to go. You may even run into us! FREE
Dyker Lights – Dyker Heights
Thanksgiving-New Year's Day
Another seasonal sight that goes up around Thanksgiving? The over-the-top holiday displays in Dyker Heights. While paying to go on a guided bus tour may be most convenient if you live outside of Brooklyn, the neighborhood is accessible via public transportation, just be prepared to walk a bit. As someone who loves all things outrageous and colorful, Dyker Heights is a destination I visit year after year, even though most of the displays don't change that much if at all. (That creepy giant Santa is always there!) If you've been and want to see something different, try the Christmas House in the Bronx or Santa's Corner in Whitestone, Queens. You won't find a critical mass of Christmas lights in either of those neighborhoods but those one-offs are worth traveling for! FREE if you go on a DIY tour
Santaland at Macy's Herald Square – Midtown West
Friday, November 28-Wednesday, December 24
Ever since my daughter was born nine years ago, my family and I have taken her to Macy's to sit on Santa's lap and get her photo taken. It's amazing to see all of those pictures in a row! Even though there's usually an hours-long line (we're the dummies who put it off until Christmas Eve), it's worth the wait though I urge you to go early in the morning in November—I hear from friends that it's much less crowded! The famed store mounts an entire North Pole village, with live elves, an enchanted forest featuring animatronic toys and a train display. Even if you do end up on a long line, there's so much to gawk at the kids don't mind the wait (much). Once you finally do make it to the front of the line, you're rewarded with face time with the one true Santa.
Honorable Mentions
NYC always has so many incredible things going on, it's difficult to choose. So here are a few more cool events that are worth considering for your November calendar. Be sure to sign up for our FREE newsletters so you can get our weekend picks delivered to your inbox every Thursday morning.
Learn how to make creative vocal sounds with Tony nominee Liz Swados at La MaMa on Saturday, November 1.
Enjoy a spooky Halloween-style celebration with a Far East twist at Japan Society's Obake Family Day on Sunday, November 2.
Catch kids' crooner Elizabeth Mitchell and You Are My Flower at Carnegie Hall on Saturday, November 8. FREE
Watch kids show off their amazing circus skills in Coney Island at the biannual Bindlestiff Cavalcade of Youth on Sunday, November 9.
Go on an old-fashioned outdoor treasure hunt with a compass and map on Randall's Island on Saturday, November 15. FREE
Compete in some fun Armory Games at the Park Avenue Armory on Saturday, November 22.
Try to spot migrating owls with the help of the Urban Park Rangers at Orchard Beach on Sunday, November 23. FREE
Go on a DIY fall foliage walk right here in NYC or take a scenic day trip before the leaves are all gone. FREE
See one of the many versions of The Nutcracker that are dancing into town.