Best Theme Parks for Preschoolers in and Near NYC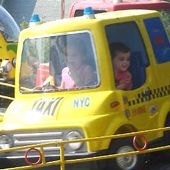 For young children, a ride on a carousel's painted pony, a spin with dad around the bumper car track and the dripping swirl of frozen custard are the stuff that summer memories are made of. No need to seek out the latest scary high-tech roller coasters (which means you can cross Luna Park's most scary rides off your list).
Rides that look mild (or frankly, downright boring) to big people usually provide just the right amount of thrills for toddlers and preschoolers. Happily, there are a number of places in and near New York City that offer these kinds of tame attractions. Here's our roundup of parks that are perfect for the pint-sized.
Victorian Gardens – Central Park
Wollman Rink
Open daily Memorial Day weekend to mid-September. Hours vary.
Admission: Weekdays: $8 to enter. $1 per ticket (four tickets per ride). $15 for an unlimited-ride wristband. Weekends and holidays: $9 to enter. $1 per ticket (four tickets per ride). $17 for an unlimited ride wristband. Entrance fee waived for children under 36 inches.
You don't even have to leave the city to transport your family to a kinder, gentler amusement park. Victorian Gardens' Wollman Rink location is intimate and enclosed, making it perfect for first-timers. Little-legged walkers don't have to cover the long distances that are the norm for most modern theme parks and can conserve their energy for fun. The rides here are subdued, so even parents with vertigo can hop on the Hydro Racer and the Happy Swing. There are also arcade games and live entertainment on weekends. Smaller children will need a parent to accompany them on most of the rides. If your kid is tall enough to go on them alone, our advice is to buy the unlimited wristband for your child, and just buy tickets for yourself. It will probably be much cheaper, especially if you end up spending the entire day there! Be forewarned, though, the unlimited wristband only covers the rides; you'll need tickets for the ubiquitous carnival games.
Luna Park – Coney Island
1000 Surf Ave
Open April to October. Days and hours vary.
Admission: $35 for a four-hour, unlimited ride wristband; four-hour kiddie wristbands are $20 and include mild thrill rides. No wristbands are available Saturdays, Sundays and holidays); Purchase credits on those days for $1 per credit. Visit the website for additional pricing info.
Standing on the grounds of the late, great Astroland, Luna Park opened in 2010 and offers plenty of rides for $3-6 a pop. The spot is reminiscent of its early 20th-century namesake, which closed in 1944 after a series of fires, making it a great multi-generational destination. On the website, you'll see that rides are organized into mild, moderate, high and extreme thrills, so there are plenty of options for everyone in the family. Located near the New York Aquarium and the beach, you can satiate the kids with a few rides before moving on to other activities.
Adventureland – Farmingdale, Long Island
2245 Broad Hollow Road (Route 110)
Approximately one hour by car
Open late March to October. Days and hours vary.
Admission: $27.99 for an unlimited wristband, or $1.50 per ticket (3-5 tickets per kiddie ride).
With 10 kiddie rides, tots won't feel left out at this amusement park. Classics like the carousel, swings and helicopters all promise fun not fear. There are rides that will provide bigger thrills too, so everyone can enjoy the day trip. Locals predominate the scene, and there are lots of camp groups during the week. There is an air-conditioned, sit-down restaurant, which is a great place to cool off and take a break. The menu is loaded with kid-pleasing options and gluten-free pizza is available.
Playland's Castaway Cove – Ocean City, New Jersey
10th and the Boardwalk
Approximately two hours by car
Open April to October. Hours vary.
Admission: $1 per ticket (2-4 tickets per kiddie ride). Discounts available if you buy in bulk.
If you haven't taken the family to Ocean City's boardwalk, get going. It is pure Americana and looks like a film set from the 1950s. The boardwalk is home to several small, family-owned amusement parks, with rides and games galore. Giant clouds of pink cotton-candy scent the sea air with a sugary aroma. The beach offers clean white sand and refreshing Atlantic waters. Castaway Cove is in the middle of the boardwalk on 10th Street, just a block away from Manco & Manco Pizza (known as Mack and Manco's until December 2011, an iconic Jersey Shore pizzeria serving giant, cheap and cheesy slices. The park has some great, small-scale rides, like bumper cars and a hand-painted merry-go-round and an indoor arcade that's loaded with games. Go for a spin on the 90-foot Ferris wheel and you'll be rewarded with a spectacular view.
Dutch Wonderland – Lancaster, Pennsylvania
2249 Lincoln Highway East
Approximately three hours by car
Open daily Memorial Day weekend to Labor Day, weekends through early October. Hours vary.
Admission: $39.99, free for children ages 2 and under. Check the website for consecutive-day discounts and twilight rates.
Lancaster County is known as a great family vacation destination—I've got so many wonderful memories of going there as a child. But when you inevitably tire of seeing horse-drawn buggies driving down the highway, take the brood to Dutch Wonderland. With a host of rides for kids under 36 inches, it's a preschooler's paradise. The Duke's Lagoon water play area has small-sized slides located under shady palm trees. There are lots of food options, including some healthy choices like salad, yogurt and fruit.
Dorney Park – Allentown, Pennsylvania
3830 Dorney Park Road
Approximately two hours by car
Open May-November. Visit the website for the complete schedule.
Admission: $54 at the gate. Visit the website for pricing options.
You are correct in thinking that this park is home to several roller coasters that send chills down the spine of even hard-core thrill seekers. But for the junior set, there's Planet Snoopy, 16 mild Peanuts-themed rides. Fly with the Red Baron, swing with Charlie Brown and ride the scaled-down roller coaster, the Woodstock Express. A theater hosts live performances starring the gang that will entertain tots with singing and dancing. If the kids want more, Dorney has other family rides, including a carousel and a tilt-a-whirl. And remember, there's also the sister water park, Wildwater Kingdom.
Sesame Place – Langhorne, PA
100 Sesame Road
Approximately two hours by car
Open April-December. Visit the website for the complete schedule.
Admission: $65 (can visit twice in one season), free for children 23 months and younger.
Fans of the PBS TV series will go gaga (especially if that's the only word they can say!) for this park. There are a ton of rides aimed at kids ages 2 to 6. Happily, there are dozens of options that will appeal to older siblings, too. The park is big, with wet and dry attractions, so bring a bathing suit. Don't miss the Neighborhood Street Party Parade, in which Big Bird, Elmo and the gang sing, dance and prance to the delight of their devoted fans. For a special treat, reserve a meal with your child's favorite Sesame Street character.
Check out our Summer Fun Guide for additional seasonal fun, including our favorite Water Parks near NYC.
This post originally published in July 2011.