Best of New York City for Kids 2012: Our Favorite New NYC Spots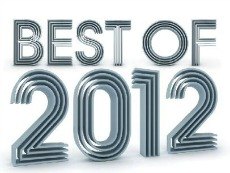 Every year, we knock an experience or two off our list of 100 things to do with kids in NYC before they grow up. In 2012, my family braved the crowds at Dylan's Candy Bar (No. 8), Dave & Buster's in Times Square (No. 28) and Macy's Thanksgiving Day Parade Balloon Inflation (No. 98), all for the first time. And I know that Mommy Poppins' founder Anna and her kids finally made it to the Easter Parade (No. 27) and went on a couple of auditions just for fun (No. 2). But just when we think we're making a real dent in that list, a slew of brand-new must-see attractions pop up in New York City. Not that we're complaining—that's one of the reasons we love living here.
Even if you're still working on visiting all of the amazing places that opened in 2011, 2012's top new spots deserve to be on your radar. If you read the site every day, you'll probably already know about most of these, but if you missed a few of the 500 or so posts we wrote this year, here's a roundup of our favorite new NYC attractions for families that opened in 2012.
The Museum of Mathematics
We raved about this interactive and educational spot when it opened in December. The only cultural institution dedicated to math in all of North America, the 19,000-square-foot museum is located right across from Madison Square Park. No ordinary children's museum, MoMath is aimed at school-age kids who can grasp basic mathematical concepts and are able to work the engaging hands-on attractions like pedaling the Square-wheeled Trike, or creating and printing out 3D designs in the Mathenaseum. Best of all, the museum is open 365 days a year, which means you can even visit on holidays when most everything else is closed.
New Permanent Museum Attractions
Although MoMath was the only new museum to open this year, other veteran institutions added permanent additions of interest to families.
Queens' New York Hall of Science debuted its Maker Faire-inspired Maker Space where kids can tinker with 3D printers, create art from recycled materials, deconstruct gadgets and work on other hands-on projects.
The Brooklyn Children's Museum opened a Sensory Room filled with equipment and activities specifically designed to stimulate children with special needs.
Although the Cooper-Hewitt's landmark Fifth Avenue home is currently closed for renovations, families can still enjoy the museum's educational programming at the new Cooper-Hewitt Design Center, a 1,500-square-foot studio offering a variety of design workshops for toddlers through teens, most of which are free.
New Outdoor Ice-Skating Rinks and Pools
It's been a great year for alfresco athletics.
After years of being the only borough in NYC without a public rink, Bronx residents finally got a place to glide with the November opening of the Van Cortlandt Park Ice Skating Rink. We visited and were impressed with the staff and the lack of crowds, so it's worth traveling to, especially since it's right by the number 1 subway.
Battery Park City also got a new outdoor rink: Liberty View Ice Rink, which is built on Wagner Park. It's unclear whether it will return next winter so get your glide on here while you still can.
Brooklyn debuted a pair of new pools. The renovation of the Olympic-size McCarren Park Pool got the most press (both good and bad) and was well known for its beauty and perpetual lines.
For families with young kids, Brooklyn Bridge Park's Pier 2 Pop-Up Pool was the better bet, with its faux beach, pristine water, 3.5-foot depth and wristband entry system. And it's coming back next summer!
New Parks and Playgrounds
A bunch of new or overhauled green spaces opened this year. We covered a bunch, and while many were modest (like the renovations of the Pearl Street Playground at South Street Seaport, Elephant Playground in Riverside Park and Minetta Playground in Greenwich Village), a few really stood out as destinations.
Park Slope's renovated J.J. Byrne Playground features a Colonial theme, distinct play areas for kids of different ages, colorful equipment, shady benches and an interactive map of the Battle of Brooklyn.
We were blown away by the $30 million overhaul of Rockaway Park but unfortunately, two months after it debuted, Hurricane Sandy came through and the spot is currently closed due to damage. We hope that when the mile-long waterfront park reopens in 2013, all of its incredible attractions—including two playgrounds, an incredible water play area, a massive skatepark, various sports fields and a performance space—are all intact.
While the overhauled Tremont Park doesn't quite qualify as a destination, the Bronx so rarely gets brand-new state-of-the-art green spaces we had to mention it. The $4.5 million renovation includes two playgrounds, an awesome water area, sports fields and paved pathways lined with benches, all within walking distance of the Bronx's Little Italy.
New Indoor Play Spaces
So many indoor play spots opened this year, it was hard to keep track. Lots of tried-and-true, members-only chains debuted new locations—a new Kidville in Carroll Gardens, a second My Gym on the Upper East Side, another Upper West Side Gymboree—but a few fresh local spots really piqued our interest.
Popular members-only Chelsea play space apple seeds opened a gorgeous outpost on the Upper West Side featuring a 2,000-square-foot indoor playground and a variety of stimulating classes for the preschool set.
Williamsburg's Frolic! boasts an eye-catching, rock-and-roll-themed gym (love that Mick Jagger tongue double slide) and cool music classes for the preschool set.
But our favorite new addition is Astoria's Kids Playhouse, which offers drop-in play for just $7 per kid, no need to buy a membership or enroll in a class. As you can see from our slide show, that two-and-a-half level Adventure Maze is a big hit with kids, plus there's an arcade.
New Offbeat Class Spots
Every year brings a bunch of new sports or arts programs. But while your kids have undoubtedly played ball or drawn a picture, they probably haven't learned how to do most of these eclectic activities.
Try juggling, acrobatics and the static trapeze in Aerial Arts NYC's youth circus program.
Build your own robots out of familiar household materials at Brooklyn Robot Foundry. The spot even offers weekend open play.
Storefront Science closed its exploratorium in October 2013 but still offers classes at a variety of other locations. Study science at Storefront Science, an exploratorium in Washington Heights offering after-school clubs, open sessions and drop-off labs.
Learn the ancient art of paper folding by following step-by-step instructions on touch-screen tablets at Taro's Origami Studio in Park Slope
Or try another, lesser-known ancient art, batik (kind of like tie-dyeing but with hot wax instead of rubber bands) at the interactive Hiho Batik, also in Park Slope.
Build all kinds of contraptions with real tools at Construction Kids' brand-new Brooklyn Navy Yard studio.
Take one-on-one skateboard or trick cycling lessons at 5050 Skatepark on Staten Island, NYC's only indoor skatepark
Create your own tasty candy concoctions at Chocolate Works on the Upper West Side.