Best clothing shopping sites for babies and kids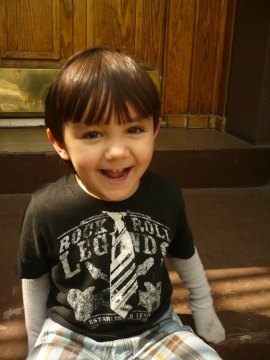 [UPDATED: August 10, 2012]
Summer is winding down and it's time to get ready for the Fall. I'm starting to think about back to school shopping and thought I'd do a special Linkin' B'Logs to share some of my favorite online shopping sites. These sites will keep your kids looking cool and you can do it all without leaving your chair.
Nonchalant Mom is a great site where you'll discover beautifully designed clothes from Lucky Wang, Kit + Lili,  Antik Batik and many other designers you may not have heard of. Carina picks beautiful things that you won't see everywhere else.
Mini Boden, a British outfit, sells colorful, fun and classic clothes for babies and kids. You can't go wrong with this stuff.
Oliebollen, started by two moms from Michigan, sells cool clothes for babies and kids. You'll find Small Paul, Zutano, Catimini, Cakewalk and more, plus, perhaps, the best collection of adorable backpacks for little kids ever.
My kids have worn Hanna Andersson clothing that, literally, must have been passed down through 4 or 5 kids and it just seems softer and better as it goes along. I don't know how they get their organic cotton pajamas to be so thick and soft, but every kid should have a pair.
Black Wagon sells all kinds of cool clothes for kids, but I especially love the graphic tees. Like the Appaman vehicles and animals. It's great to find cool clothes that have images kids love that aren't branded.
Urban Baby Runway sells an eclectic mix of cool graphic tees and unique kids clothes picked by the owners who are also parents from Baltimore.
If Silly Wagon isn't already one of your favorite online shopping sites for kids, it should be. It's like a virtual department store for kids with clothing, toys and decor,  all chosen with great style in mind.
If your baby was born ready to rock, then your first shopping stop should be Psycho Baby. If she wasn't, then just pick up a couple of things anyway and fake it.