Ballroom Dance Lessons for NYC Kids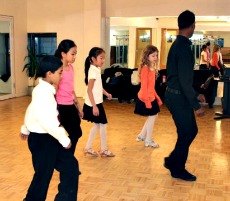 My nine-year-old son has had happy feet practically since birth. He already has many years of tap-dancing under his belt and he took ballroom dancing in his school last semester. He was thrilled to be dancing (in school, no less!) and quickly picked up the foxtrot, merengue, swing dancing and even the tango. The ballroom dancing program hadn't even wrapped before he was asking if he could continue to take lessons outside of school.
I said, of course... but then I started doing the research. To my surprise, while there are plenty of schools that offer one-off classes here and there like flamenco or salsa, and lots of ballroom dancing studios for adults, there aren't that many programs for children that focus solely on the genre. However, I did find a handful of NYC spots that can give your little movers and shakers a dedicated ballroom dance experience, plus info on how you can bring ballroom dancing to your kids' school.
Paul Pellicoro's DanceSport – Midtown West
22 West 34th Street between Fifth and Sixth Avenues
Billed as "New York's largest ballroom and Latin studios," Dance Sport offers an after-school program for children ages 6 to 13. Students meet twice a week and work in pairs to learn salsa, merengue, swing and ballroom. Each day is divided into two sessions. In the first, they try the steps and in the second, they learn choreographed routines. Everyone performs in the Dance Extravaganza at the end of the semester.
Mende Dance Studio – Rego Park
62-61 Woodhaven Boulevard at 62nd Drive
This decades-old Queens studio has ballroom dancing classes for children ages 7 and up. A no-cost introductory class is offered.
Dance Central New York – Staten Island
126 Fingerboard Road near Wilton Court
This Staten Island program offers ballroom and Latin dancing classes for kids and teens. The website is totally out-of-date but the studio's still going strong. Call 718-981-2121 for a current schedule.
Interested in bringing ballroom dancing to your child's school? Dancing Classrooms—the organization featured in the awesome documentary Mad Hot Ballroom and the inspiration behind the movie Take the Lead—is also the program my son participated in. He loved it, and it was incredible to see so many kids dance the tango, foxtrot and more with energy, smiles and confidence. Several kids in my son's class also participated in the borough-wide competition and all of them wanted to continue ballroom dancing outside of the classroom. Bonus: All kids who participate in the program are invited to take classes at the organization's Herald Square studio (25 West 31st Street) once the school program wraps. Check the website for information about starting a program at your child's school.
Find out about other cool programs for kids in our Classes Guide.