Are There Ball Pits in NYC? You Bet! And A Few Are Even Clean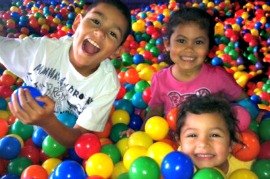 Ball pits. Kids love 'em but many parents worry that they're a cesspool of germs. (Most McDonald's and Chuck E. Cheese's have removed them because they just couldn't clean them properly.) But there are a handful of ball pits in New York City at places that seem to have a much better handle on the whole sanitizing thing.
Even if you're still a little skeptical, think about all the fun you had in ball pits as a child (because you know you did). Plus with winter coming, ball pits are a great place for kids to have fun indoors when it's cold or rainy. Your kids will have a blast diving, tossing and romping around. Some of these places also make great birthday party places.
Ikea – Red Hook
1 Beard Street at Halleck Street
FREE
Småland, Ikea's drop-off supervised play area in the lobby, has a ball pit among other attractions. The space is open to potty-trained children 37 to 54 inches tall, and parents can leave their kids for up to an hour. That means you get 60 minutes of shopping without that ticking time bomb of a bored little one.
Children's Museum of the Arts – Hudson Square
103 Charlton Street between Hudson and Greenwich Streets
Free with admission: $11
No itty-bitty balls here. CMA's Ball Pond is filled with colorful yoga balls, which are easily half the size of most preschoolers. Located on the second floor, it's bordered by a big picture window on one side. Since it's one of the most popular attractions at the museum, the staff has instituted a schedule organized by age range, so the little kids don't get trampled by the big ones. Parental supervision is required for all ages at all times, although some folks take that rule more seriously than others.
Little Athletes Exploration Center – Chelsea Piers
23rd Street and the Hudson River between Piers 61 and 62
$12 per session
We've raved about this indoor play spot before, especially its ball pit. Located in the Field House at Chelsea Piers, Little Athletes is aimed exclusively at young children ages 6 months to 4 years, so you don't have to worry about big kids crushing them. Besides the ball pit, you'll also find equipment to crawl through, jump on, slide down and explore. Parental supervision is required. Check the website for an up-to-date schedule and info on multi-session discounts.
Fun Station USA – Staten Island
3555 Victory Boulevard
$17.95-$19.95 for an all-day pass but check the website for a full price list
Fun Station's ball pit is located in its Toddler Village, where children must be under 42 inches tall. While we've visited the other ball pits personally, we've never been here, so we can't make any claims about its cleanliness. There are certainly a lot of other things to do, including arcade games, laser tag, batting cages and more.
Kids 'N Action – Midwood
1149 McDonald Avenue near 20th Avenue
$8-$15 depending on the day
We also haven't tried this ball pit (here dubbed a ball bath) firsthand. But this jam-packed indoor amusement park also boasts a soft play area with tunnels, mazes and slides, plus a small roller coaster, train ride and go-karts for older kids.
Aviator Sports and Events Center – Mill Basin
3159 Flatbush Avenue
Fees vary
The Brooklyn athletic complex doesn't have a traditional ball pit; it's got a huge foam pit in its gymnastics center, which offers a similar sensory experience. During school breaks and the summer, Aviator offers drop-in sessions, so check the website for upcoming dates.
Find out about other great places to play inside in our NYC Indoor Activity Guide.