5 Fun Day Trips From New York City Without A Car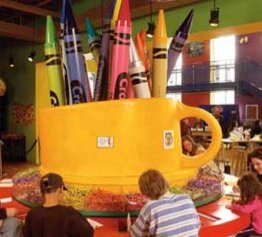 For kids, a week off from school is bliss. For parents, it can be a little stressful. My son tends to get a little stir crazy in our over-heated apartment. It is too cold for the playground and every inside attraction is jam-packed. Plus, I really need a break from our monthly trek to the American Museum of Natural History.
Thankfully a car isn't necessary to escape the city for the day. Here are some great trips guaranteed to entertain the whole gang, no car required! There's no need to battle traffic and arrive stressed when you can kick back and relax on public transit. Plus, it makes getting there part of the adventure and your kids will love it.
Though we were inspired by wintertime cabin fever here, these outings are great for any time. Check each destination's website for specific directions.
The Crayola Factory – Easton, PA
Admission: $18.99 for everyone ages 2 and up; FREE for infants
Hours: Tuesday-Friday 9:30am-4pm, Saturday & Sunday 10am-6pm (unless otherwise noted)
A direct bus trip from Port Authority Bus Terminal delivers you half a block away from the front doors of The Crayola Factory in less than 2 hours. This awesome activity center invites visitors to paint, draw with every color possible, sculpt and even write on a glass wall. You'll also get to see a live demonstration of how crayons and markers are made. The best part about this place is that even when it's crowded, it is definitely not New York City crowded.
Mid-Hudson Children's Museum – Poughkeepsie, NY
Admission: $8 for everyone ages 1 and up, FREE for infants
Hours: Tuesday-Saturday 9:30am-5pm, Sunday 11am-5pm. Open until 8pm on the third Saturday of the month. FREE admission from 5pm-8pm on those late nights.
Located on the banks of the majestic Hudson River, this museum is easy to get to via the Metro North from Grand Central Station. Take the Hudson line to the end—the trip to Poughkeepsie will take about 1 hour and 45 minutes, and from there, the Mid-Hudson Children's Museum is within easy walking distance. Four exhibit galleries offer plenty for kids to explore: They can build a house in RiverTown, look a 12-foot tall Mastodon in the eye and peer through a periscope at the Hudson River. The museum also offers daily activities in its Art Activity Area, all free with museum admission.
Newark Museum – Newark, NJ
Admission: $12 for adults, $7 for children
Planetarium: Additional $5 for Adults, $3 for Children under 12
Hours: Wednesday-Sunday noon-5pm. Closed most Mondays and every Tuesday.
Conveniently located in downtown Newark, the Newark Museum is easily accessible from Manhattan by New Jersey Transit or the PATH train with a short connection via the Newark Light Rail system. Intrepid New York City families can also walk it from the train. The museum is the largest in New Jersey and is kind of like the Metropolitan Museum of Art and The Museum of Natural History rolled into one, with 80 galleries of art and natural sciences to explore. Kids love the "Look/Touch/Learn" area, which engages them through touchable displays, scavenger hunts and interactive games. The Fire Museum is also a favorite—children can try on fire gear and climb into a real fire truck cab. Many family programs are offered throughout the year, including arts & crafts activities, science projects and film screenings.
Liberty Science Center – Jersey City, NJ
Admission: $19.75 for adults, $15.75 for children ages 2-12 (Film tickets are additional)
Hours: Tuesday-Friday 9am-4pm, Saturday & Sunday 9am-5:30pm. Closed Mondays. Hours change seasonally, so double-check the website before heading out.
There are so many ways to get across New York Harbor to the Liberty Science Center, but two of the most adventurous are PATH trains or a ferry ride from Manhattan with connections to light rail or a local bus. At the Center, science comes to life every day in engaging and exciting ways, with public programming and educators to complement all the exhibits. It takes many visits to actually scratch the surface of this center. In the huge skyscraper gallery, little New Yorkers will love learning how our high-rises behave in the wind, pretending to be construction workers by walking along the iron beams, and even putting together a building of their own. "Eat and Be Eaten" lets kids get up close and personal with animals such as frogs, tortoises and hissing cockroaches. There's even a designated "I Explore" area especially for kids under age 5 with interactive activities they can enjoy without getting trampled.
Please Touch Museum – Philadelphia, PA
Admission: $16 for everyone 1 year and older; FREE for infants
Hours: Monday-Saturday 9am-5pm, Sunday 11am-5pm
The furthest of the lot, but completely worth the trip, the Please Touch Museum is easy to get to by taking Amtrak straight into center city Philadelphia. A less expensive, but equally effective train trip involves taking NJ Transit into Trenton and connecting to SEPTA. From center city you can choose from a few bus lines that take you directly to the museum. Bright, colorful and interactive, Please Touch is considered one of the best children's museums in the country. Kids can let loose in the Wonderland exhibit, complete with a circular maze and hall of doors and mirrors. Visit the Please Touch Playhouse to take in a puppet show, create a fantasy car in Roadside Attractions or take a whirl on the historic carousel.
For other great activities to keep your family busy during winter, check out our Winter Fun Guide.
This post originally published in January 2012.