13 Fun Things to Do in Rockefeller Center Besides the Christmas Tree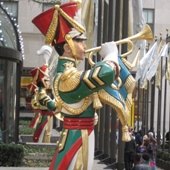 Rockefeller Center is undoubtedly the most crowded place in New York City during the holidays as everyone, whether they live in town or are just visiting, goes to see "The Tree." But then what? There is actually quite a lot do in the 22-acre complex besides gaping at the twinkling evergreen and battling the tourists. It is a great holiday destination with plenty of shopping, eating and culture. Squeeze it in as part of a Holiday Windows Walk, check it out while you wait for the Rockettes to start kicking, or grab a bite after your show (we've got great suggestions for Family-Friendly Restaurants Near Rockefeller Center).
Read on for 13 fun things to do at Rockefeller Center this winter:
1. Take a twirl on the most famous ice rink in the city. This is an essential NYC holiday experience. Go early in the season and early in the day to avoid the lines. Or wait until the tree is down and take a quick lunchtime skate at a bargain price. Click here for Holiday rates and session times.
2. Gaze up at the giant Swarovski crystal star that graces the top of the Christmas tree located on the north side of the plaza. The real star weighs almost 600 lbs and sports 25,000 crystals but you can get a miniature ornament-sized one for your own tree here.

3. Have a professional photographer take your photo in front of the tree for a fee. Or across Sixth Avenue on 49th and 50th streets you can pose the posse in front of enormous Christmas lights or ornaments for a stunning holiday card photo.

4. Learn about fire safety at the FDNY Fire Zone, located at 50 Rockefeller Plaza, adjacent to Radio City Music Hall. General admission is free to this fire-safety learning center where kids can play with interactive exhibits, as well as meet a real fireman. For a fee, you can view a multimedia Fire-Simulation Presentation. The simulator is usually reserved for school groups in the morning so call before heading out.
5. Head up to the Top of the Rock Observation Desk to experience breathtaking views of the NYC skyline. Don't forget your camera!
6. Hit the interactive and exciting NBC Experience Store to show allegiance to your favorite show or head upstairs to the msnbc.com Digital Cafe for a bite to eat and some news. You can also pose for a green screen photo of yourself as part of your favorite TV show or NYC locale.
7. Visit The LEGO Store for a little playtime and be sure to check out the mini version of Rockefeller Center made entirely out of LEGO bricks. Read our full review of The LEGO Store here.
8. Go behind the scenes of your favorite TV shows on an NBC Studio Tour. I did this a long time ago and got to see the sets for some soap operas, as well as the Late Show with David Letterman. Or take a stage door tour of the legendary Radio City Music Hall–tours run every day, even during the holidays!
9. There is more art and history in Rockefeller Center than you probably ever realized. The buildings themselves are art deco masterpieces of sculpted glass and carved stone. Inside the lobby of the main building at 30 Rockefeller Center, right behind the tree, there are beautiful deco murals by famous artists. You can pick up a map at the front desk and wander around yourself or take a guided tour with a historian.
10. I love to visit Rock Center via the subway so I can bring my son through the massive underground labyrinth also known as the Concourse. It is fun to surprise him as we walk through the buildings and then exit into the well known plaza to see the tree. The Concourse itself is really cool: You can watch the skaters from one of two fancy restaurants or grab a bite at one of the quicker, less expensive places and eat at the windowed seating area. There is also an ATM, post office, UPS and even clean bathrooms on the Concourse level, along with the city's most crowded Starbucks.
11. Hit the stores for some retail therapy or holiday shopping. I love the beautiful imported duds for infants and toddlers at Hippototamus but there are over 100 more shops to choose from, selling everything from toothpaste to Tumi luggage. Some best bets for holiday gifts are The LEGO Store, FDNY Fire Zone, Pylones and Rain. And at Nintendo World, one of our favorite places, you can play Wii and DS for free.
12. Where better to have breakfast with Santa then underneath the most famous Christmas Tree in the country? Break bread with Santa at Rock Center Cafe or The Sea Grill, then go for a twirl at The Rink. Seats usually go fast so make your reservation early. Or try some of the other great food here--you can get a cupcake to go from Magnolia Bakery or take a seat in the tiny chocolate salon at La Maison Du Chocolat.
13. On your way out, be sure to check out the festive holiday windows and light show at Saks and don't miss the singing Salvation Army Bell Ringers. 
Note: It gets crowded here, sometimes insanely crowded. For the smallest crowds visit on a weekday, the earlier or later the better. I was recently there at 10:00 am on a Friday morning and practically had the place to myself. Don't even try to go during the holiday break, unless you are really, really brave.
Hanging around Rock Center during the holidays? Find more holiday fun in our Mommy Poppins Holiday Guide and find great gift ideas in our NYC Shopping Local Gift Guide.
This article, originally published in November 2010, was updated in 2012.