6 Second-Hand Clothing Stores to Outfit City Kids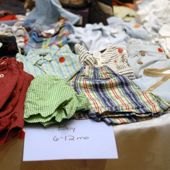 Any parent does their fair share of shopping for their kids, searching for a bargain for ever-growing bodies. For my part, I love shopping children's consignment shops and thrift stores. Besides being a great way to find inexpensive children's clothes and baby gear, it's fun to find unique items you would never get at a big chain store. Consignment shops are also great for buying baby gear staples like bed rails that you use for a little while and then need to pass on. Unfortunately children's resale shops in New York City are few and far between.
We've done our best to roundup the ones worth checking out. So whether you're looking to buy or sell, read on to find out about second-hand stores in New York City.
Clementine – Greenwich Village
39 1/2 Washington Square South
212-228-9333
Clementine bills itself as "extraordinary consignment," and carries maternity clothes and children's wares up to 4T. Local mom Cara Wall and her mother, Myrle, founded the shop after Cara's frustration with not being able to find a quality consignment shop during her pregnancy.
To consign: Items can be dropped off during store hours. Patrons can wait while pieces are sorted or "drop and run" and receive a consignment receipt by email. You are paid only once your item sells. You will earn 40 percent of the selling price. Items are consigned for 60 days but then need to be picked up or will be donated. You can also "Consign for a Cause," and have the proceeds of your sales donated to a local charity, too.
Flying Squirrel – Greenpoint
87 Oak Street
718-218-7775
This longtime Williamsburg boutique moved to nearby Greenpoint in October 2013. Expect a large selection of clothing, gear, toys and furniture for babies, kids and moms-to-be. There is a resale section and a playroom for kids to enjoy while parents browse the racks.
To consign: Call to make an appointment. You will receive 50 percent of the resale value in a "trade" credit. This credit can only be used on second-hand items.
Jane's Exchange – East Village
191 E 3rd Street
East Village, Manhattan
212-677-0380
Jane's Exchange is a neighborhood institution carrying children's clothing from infant to size 8. Toys, furniture, gear and maternity wear is also sold.
To consign: Call for an appointment. Consignors get 30 percent of the sale price of items less than $100 and 40 percent on items more than $100. All payment is made in store credit. Items will be consigned for 60 days, after that the owner must pick them up.
Lulu's Then and Now – Park Slope
75A 5th Avenue
718-398-5858
Lulu's Then and Now is part of the LuLu's Brooklyn empire, which also includes the popular children's haircutting salon and toy store. The resale shop sells clothing, toys, books and baby gear from infant to 8 years old.
To consign: Drop your items off from 10:30am-5pm Monday though Saturday, and 11:30am-5pm on Sundays. Lulu staffers will spend 45 minutes or so (expect longer waits on weekends) sorting through your wares and then pay you 40 percent of the resale value via store credit or 25 percent via a check.
Madison Rose Maternity – Carroll Gardens
313 Court Street
347-689-3365
Who wants to spend a fortune on a whole new maternity wardrobe that you can only wear for a few months? While most children's consignment stores usually have a small selection of maternity clothing, Madison Rose is primarily focused on designer maternity clothes at resale prices. Find only high-end brands here. The shop also takes designer kids clothing.
To consign: Call or email madisonrosematernity@gmail.com for an appointment to drop off your clothing. Clothes will be evaluated and an offer will be made for 35 percent resale price in cash or 45 percent of resale price in store credit. For children's clothing, it will pay 25 percent resale value in cash or 35 percent in store credit. Madison Rose will also take your unwanted items and donate them to charity.
Once Upon A Child – Staten Island
2305 Richmond Avenue
718-370-3006
Part of a nation-wide chain of second-hand stores, this Staten Island outpost has been around since 1995 and buys clothing, toys, baby gear, furniture and shoes.
To consign: Bring in clean, gently used items and you will be paid between 30 and 50 percent of resale value on the spot. You can also receive store credit.
If you decide you'd rather go the charity route when getting rid of the clothes your kids have outgrown, check out our list of charities who will put them to good use.
Originally published in December 2010.