Join Us on Presidents' Day for a Creative Batik Bash at Hiho Batik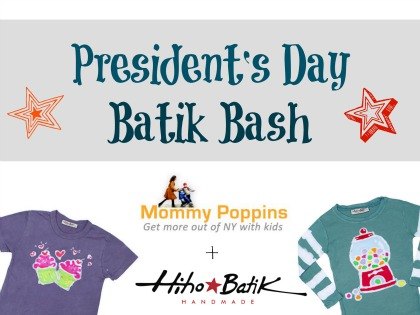 Everybody had so much fun at our recent New York Kids Club event that we knew we had to do another gathering soon. And with the Presidents' Day school holiday coming up next week, it seemed like a great time for another fun meet-up for NYC families at one of the coolest creative spots we know: Hiho Batik.
We reviewed Hiho Batik back in October soon after it opened in Park Slope, and we really loved what we saw. Now we're partnering with the batik boutique/DIY design studio to create a special event that will be fun for kids of all ages as well as their grown-ups.
Hiho Batik is the only place in NYC where families can design, draw and dye their own batik clothing and accessories. On Monday, February 18, join us to learn the basics of batik and make a special animal mask. The project will involve crayons rather than the hot wax usually used for batik, so it is fun and safe for children of all ages. Hiho Batik will provide everything you need to design, draw and decorate your own unique animal mask.
After you've gotten your feet wet with this project, you are welcome to make a T-shirt or any of the other batik projects offered at Hiho Batik. You'll even get a 10% discount off the regular prices as well as an additional 10% off the adorable items in the boutique (most of which will be on sale as well).
Advance registration is required for this event and space is very limited. Visit the event page to purchase tickets.
Presidents Day Batik Bash at Hiho Batik
184 Fifth Avenue between Berkeley and Lincoln Place in Park Slope
Monday, February 18
$12 per family
All ages
This is an intimate event of only 20 people per session. Use the share buttons to invite your friends or meet new ones there. We look forward to seeing you!