Mommy Poppins Family Events Calendar
May
Children's Museum of Manhattan
Bento is a single-portion meal served in a box, which has become its own art form. Design your own kawaii bento box to hold your lunch
Drop In
Read more »
New York Historical Society
Each class includes time with historic toys, a special Little New-Yorkers hello song, story readings, and a related craft project
Read more »
When:
Friday, March 27, 2015 at 3:30pm

Repeating

every week — Fridays

through

May 15, 2015

Except

April 3, 2015; April 10, 2015; April 24, 2015; May 8, 2015. s

Where:
250 Cadman Plaza West, Brooklyn NY 11201
Cost:
Free
Contact:
Rabbi Seth Wax
Website:
http://www.congregationmountsinai.org
Ages:
birth-5, with parent/caregiver
Add to cal:
Google Yahoo iCal/Outlook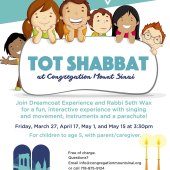 Join Dreamcoat Experience and Rabbi Seth Wax for a fun, interactive experience with singing and movement, instruments and a parachute! There will also be grape juice and challah to enjoy afterward. 
Read more »
When:
Friday, May 1, 2015 at 4:00pm to 5:00pm

Repeating

every week 27 times .

Where:
158 Seventh Avenue, Brooklyn NY 11215
Cost:
$12 for first child, $3 for each additional child
Contact:
nmnikoskids@gmail.com
Website:
http://www.nikoskids.com
Ages:
birth-8
Add to cal:
Google Yahoo iCal/Outlook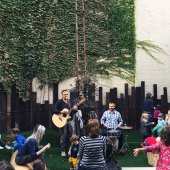 Come out, bring an instrument and jam with the band or kick back and enjoy the music! Nikolai Moderbacher is on guitar, vocals and kazoo, Evan Pazner on drums, YOU on back-ups and percussions!! They play mostly originals and some folk tunes we're sure you'll recognize.
Read more »
Bartow-Pell Mansion Museum
First Fridays! with the Bronx Seaside Trolley happen the first Friday of every month April - December at Bartow-Pell Mansion Museum. Join in for an evening visit with live music, self-guided tours of the mansion, a stroll in the garden, and light refreshments. The free Bronx Seaside Trolley makes a continuous hourly loop from the Pelham Bay #6 subway station to BPMM to City Island starting at 5:25.  Registration requested.
Read more »
Children's Museum of Manhattan
When:
Friday, December 5, 2014 at 5:00pm to 8:00pm

Repeating

every month on the first Friday 15 times .

Where:
212 West 83rd St, New York NY 10024
Cost:
FREE
Contact:
212 721-1223
Website:
http://www.cmom.org/
Ages:
All Ages
Add to cal:
Google Yahoo iCal/Outlook
The first Friday of every month the Children's Museum of Manhattan opens its doors for free for special evening hours, from 5-8pm, for families to enjoy all of the exhibits and special programs.
Read more »
Robert F. Wagner, Jr. Park
SUNSET SINGING CIRCLES are a relaxing way to end the busy week and a wonderful opportunity for people to get together and sing in a casual and welcoming atmosphere. So raise your voice and join singer/guitarist Terre Roche as the sun sets over the Hudson River for enchanted evenings of folk songs and more. Novice and experienced singers of all ages are welcome. Players of acoustic instruments are encouraged to add their skills to the mix.
Read more »
Join New York Times best-selling and award-winning pop-up book creator Robert Sabuda as he shares the process of creating his magical 3-dimensional books.
He'll also lead a very special workshop as everyone gets busy creating pop-ups. Learn a variety of simple techniques that can be used for making cards, invitations and, with a little practice and imagination, your very own book!
Read more »
Empire State Building (ESB) will partner with the Whitney Museum of American Art to design a one-of-a-kind light show, showcasing an interpretation of works of American art from the Whitney's collection. The light show will unite the two icons as they mark historic occasions: the opening day of the Whitney's new building in Manhattan's Meatpacking District and the 84th anniversary of ESB.
Internationally-acclaimed lighting designer Marc Brickman will interpret twelve iconic works from the Whitney's collection by artists including Georgia O'Keeffe, Edward Hopper, Andy Warhol, Peter Halley and Barbara Kruger, utilizing the building's LED tower lights to create a dynamic show. Beginning at 8 p.m. on Friday, May 1, each artwork-inspired lighting display will be showcased on the architectural landmark for thirty minutes, with the light show ending at 2 a.m. on Saturday, May 2.
Most of the works that inspired the light show will be on view at the Whitney as part of the new building's inaugural exhibition, America Is Hard to See, May 1-September 27, 2015. "
Read more »
Help clean up and maintain your parks and playgrounds for It's My Park Day.
Click the link above for the schedule and location of parks.
Read more »
Based on the classic books by Lewis Carrol, this original musical follows Alice and all the usual suspects in the topsy-turvy world of Wonderland, where Alice is on trial for growing and changing..
Schedule
Saturday, April 25, 2015 7:00 PM Sold Out
Sunday, April 26, 2015 2:00, 4:00 PM
Saturday, May 02, 2015 2:00, 4:00 PM
Sunday, May 03, 2015 2:00, 4:00 PM
Wednesday, May 06, 2015 10:00 AM, 12:00 PM
Saturday, May 09, 2015 2:00, 4:00 PM
Friday, May 15, 2015 7:00 PM
Saturday, May 16, 2015 2:00, 4:00 PM
Sunday, May 17, 2015 2:00, 4:00 PM
Read more »
Filed under:
FDNY Fire houses and EMS Stations
Meet the firefighters, EMTs and paramedics who help keep your community safe every day!
Stop by to...
•Take a tour
•View demonstrations
•Learn fire and life safety tips
•Explore FDNY careers ...and much more
Visit the website above to find your local Fire House or EMS Station and its hours.
Read more »
Performances
April 25th @ 2PM & 4PM
April 26th @ 2PM & 4PM
April 28th @ 11:00AM
April 29th @ 11:00AM
May 2nd @ 2PM & 4PM
May 3rd @ 2PM & 4PM
May 5th @ 11AM
May 6th @ 11AM
May 7th @ 11AM
May 8th @ 11AM
May 9th @ 2PM & 4PM
May 10th @ 2PM & 4PM
After every 4PM performance join us for a Talk Back with the actors to learn how they brought their characters to life
New York City Children's Theater (formerly Making Books Sing) will present A BAND OF ANGELS this spring, commemorating the ten-year anniversary of the musical.
The 70-minute musical focuses on Ella, a pop-culture obsessed teenager living in the present day who is transported back in time to meet the Jubilee Singers and gain a new appreciation for history and education. The show includes traditional African-American spirituals which will be performed a cappella.
Read more »
Whitney Museum of American Art
On Saturday, May 2, the Whitney will offer free admission to the Museum (advance tickets are sold out but some will be given out the day of), and host a block party on Gansevoort Street, sponsored by Macy's. Created in the spirit of a neighborhood festival, the Whitney Block Party will welcome visitors of all ages with free art and performance, including hands-on activities and participatory events.
Throughout the day, booths designed by a diverse group of contemporary artists and community organizations will offer activities for a range of audiences, including karaoke, map making, and performance workshops. Large-scale acts on the main stage will include all-ages performances, including puppetry, dance, music, and poetry. These distinctive projects embody the Museum's multidisciplinary and inclusive approach to contemporary art.
The festivities will encourage audiences to experience the new location and new architecture as part of the Museum's active engagement with artists and the city. All the activities and performances are designed by artists and community organizations.
Booths and activities will be offered by Ei Arakawa and Shimon Minamikawa, Trisha Baga, Bed Stuy Love Affair, Friends of the High Line, K8 Hardy and Ryan McNamara, J.T. Jobbagy Inc., the Meatpacking District Improvement Association, Lize Mogel, My Barbarian, Nari Ward, and the Whitney Education Community Advisory Network.
Performances will be presented by Mark Beasley, Camp & Street (DonChristian, Le1f, Rahel, Boody, and special guest), The Door – A Center of Alternatives: the performing arts program, The Eichelburglers (Jennifer Miller, Heather Green, and special guest), The Tracie Morris Band with special guests Mr. Jerome Harris and Jemman, Jacolby Satterwhite and La'fem Ladosha, and A Tribe Called Red.
Read more »
Randall's Island -Urban Farm
The cherry trees are blooming! Come join the Randall's Island Park Alliance at their free annual Cherry Blossom Festival – all are welcomed! • Face painting • Kite flying (bring your own or make on site) • Butterfly release • Crafts, games and more! Plus: Exhibition of locally made Japanese pottery from Togei Kyoshitsu Studio NYC Okinawa Dance Group (12:00 pm) Drumming performance by NY Taiko Aiko Kai (11:30 am and 12:30 pm)
Read more »
Belvedere Castle Terrace, Central Park
Kick off the May migration season with Central Park Conservancy's annual On A Wing Festival. Look for migrating warblers and other songbirds in the Ramble. Meet live bats, butterflies, and birds of prey at the Belvedere Castle. Contribute to the Park's biodiversity by releasing live Painted Lady butterflies into the Shakespeare Garden!
Borrow a Discovery Kit and participate in a scavenger hunt in the Ramble, exploring firsthand how the Conservancy's work has made the Park a sanctuary for birds and other winged beings.
This festival features interactive presentations by the Wildlife Conservation Society, the Organization for Bat Conservation, NYC Audubon Society, the Urban Park Rangers, and more.
Read more »
MoMA Art Labs offer a gateway to the collection, allowing visitors to go beyond looking and talking about works of art to engage with art in new ways. In these interactive spaces, kids and adults experiment, play, and create as they make connections between their own creative explorations and the ideas, tools, and techniques of modern and contemporary art.
Transport yourself! Discover landscapes, cityscapes, real places, and imagined spaces. In the Lab visitors of all ages can design, draw, build, and create as we explore places and space in modern and contemporary art.
Hours:
Saturday–Thursday, 10:30 a.m.–4:30 p.m.
Friday, 10:30 a.m.–6:30 p.m.
Read more »
FIAF, Florence Gould Hall
FIAF Family Saturdays are the perfect way to immerse your children in French language and culture
Performance: Florence Gould Hall Guignol with Compagnie des Zonzons 1:30 pm
Ages 3+
Performed in French and English with hundred-year-old puppets in a traditional castelet, this high-energy staging of Le Pot de confiture is entertaining for all ages.
Puppetry Workshop FIAF, Le Skyroom 3:30 pm
Ages 6+
With the Guignol Plus package, kids get a chance to bring Guignol to life in an interactive workshop with our expert puppeteers from Compagnie des Zonzons.
The workshop is sold only as a package with the 1:30pm performance.
Children's French Book Sale FIAF, Lobby, 9:30am-4pm
Come and browse a great collection of French children's books for all ages and levels. Pick up the perfect holiday gift and continue your child's French adventure at home!
Read more »
Pages