Mommy Poppins Family Events Calendar
February
BMCC Tribeca Performing Arts Center
The Very Hungry Caterpillar, by award-winning children's book illustrator and writer, Eric Carle, retold on stage in black light. The tale follows the wonderful adventures of a very tiny and very hungry caterpillar that progresses through an amazing variety of foods towards his metamorphosis into a beautiful butterfly. Children will delight in the antics of Little Cloud. High up in a beautiful sky, Little Cloud slips away from the rest and transforms itself into various shapes-a sheep, an airplane, a shark and more. Mermaid Theater of Nova Scotia. Ages 3 & Up.
Read more »
Samuel B & David Rose Building, 7th Floor
The workshop begins at 12:45 pm and is inspired by Harlequinade
Join the artists of New York City Ballet in this 45-minute pre-performance exploration of the music, movement, and themes of a ballet featured in the matinee performance. NYCB Teaching Artists guide children in a ballet warm-up and movement combination, concluding in a lively performance for accompanying family and friends.
No prior dance training needed. Wear clothing that is comfortable to move in. Ballet shoes are optional.
Read more »
When:
Saturday, November 8, 2014 at 2:00pm to 5:00pm

Repeating

every month on January, February, March on the fourth Saturdays

through

March 28, 2015 .

Also on

December 13, 2014.

Where:
344 E 14th St, NY NY
Cost:
$25 per Family
Website:
http://www.14streety.org/
Ages:
All
Add to cal:
Google Yahoo iCal/Outlook
The 14th Street Y is piloting a new program for New Yorkers to make new connections, play, and refresh with indoor programming for all ages. Free for members and affordable for all, adults, seniors, tots, children and families can enjoy fitness, aquatics, games, meditation, yoga, cultural events, learning, arts and culture.
This event will occur on 5 Saturdays: 11/8, 12/13, 1/24, 2/28, 3/28
Read more »
EastRiver Ensemble Chinese stagecraft, EastRiver Ensemble presents a program of folk dance, acrobatics stunts and a range of traditional and folk music with focus on the Dongbei and Hebei regions of north China, featuring the yangqin (dulcimer), the pipa (lute), flutes, fiddles and percussion.
Interactive Arts Workshop 1:00 pm
Performance 2:15 pm
Read more »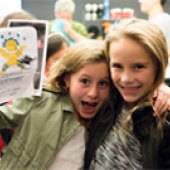 Experience the company's thrilling combination of Cuban, Caribbean, West African and modern American movement with your child. Tickets are $10 for kids, and if they see both of the two family matinees, they automatically become Joyce Junior Members and save 40% on the price of their tickets — $10 reduced to $6. 
Read more »
The Paper Bag Players celebrates its 56th anniversary with a presentation of HOT FEET, which includes their all time best sketches, such as "Happy Day" in which a lunch box is stolen, a chicken is on the loose, and people are dancing strangely; "Move Over," a hilarious look at a New York City rush hour subway ride; and "Hot Feet," a raucous song with a strong beat, a catchy tune, and an amazingly long roll of paper.
Meet the cast after the show
Read more »
Join in for a screening of Big Hero 6! Plus, there will be cool Big Hero 6 prizes to give away! What better way to spend your afternoon than right here at the library?
Read more »
Drop by the Computer Lab to take control of a NYC Subway car and operate it over virtual miles of track, using some incredibly realistic software!
Limited Capacity.
Read more »
Learn about Mis Amiguitos Spanish Language Montessori Pre School programs at their open house.
Read more »
American Museum of Natural History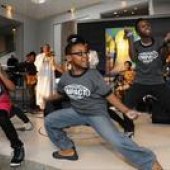 Experience globally-minded, groundbreaking artists create history at the Museum! Legendary hip-hop artist Darryl "DMC" McDaniels, NEA Jazz Master Delfeayo Marsalis, and renowned director Jamal Joseph together with the Oscar-nominated Harlem-based IMPACT Repertory Theatre and New Orleans' Uptown Music Theatre, choreography by Obediah Wright, premiere "From the African Village to the Urban Village."
Read more »
This two hour event is filled with fairytale fun. The festival includes the best of what the Galli Theater has to offer.
The Fairytale Festival includes:
*Arts and Crafts
* Raffles
* Kid's Mini-Theater Workshop
* Giveaways
* A festival exclusive show, "Three Little Pigs"
Read more »
Battery Park City Ball Fields
Come out to the BPC Ball Fields for a rousing game of Ultimate Frisbee! This fun-spirited, fast-paced game is great fun for novices and experts alike. Newcomers are welcome. Co-ed/Pick-up. Discs are provided! Enjoy the challenge, strategy, comradery and most importantly, the fun of the ultimate game.
Read more »
March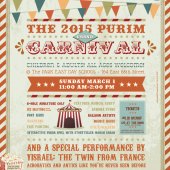 THE 2015 GRAND PURIM CARNIVAL! Ice skating, pony rides, mini golf, bounce houses, magicians, stilt-walkers, jugglers, interactive Purim spiel, balloon artists, face painting, guitar sing-a-long, featured performance by Yisrael, The Twin from France: acrobatics and antics like you've never seen before! Organic popcorn courtesy of Yiddish Farm.  Write notes to IDF soldiers and post them on our giant Western Wall mural!  Prizes awarded for Purim-related costumes!  Costumes with weaponry not permitted.
Read more »
BAM Fisher (Fishman Space)
10:30am and 1:30pm on both days
Theater Tre, one of Sweden's oldest and most respected troupes, presents this charming physical comedy created especially for younger audiences.
Wearing blue workman's overalls, three quiet yet clever clowns use colorful blocks to build, break, and rebuild relationships to space and each other, creating an exercise in cooperation and spatial awareness that will delight and engage children and adults alike.
Read more »
When:
Sunday, December 7, 2014 at

Various times

Repeating

every month on January, February, March on the first Sundays

through

March 1, 2015 .

Where:
150 Eastern Parkway, Brooklyn NY
Cost:
Free with Garden admission
Contact:
communications@bbg.org.
Website:
http://www.bbg.org/visit/light_in_winter
Ages:
All
Add to cal:
Google Yahoo iCal/Outlook
From December through March, BBG presents First Sundays, a series of festive events for children and adults of all ages that celebrates our connection to nature in the quietest months of the year. Among the special programs are opportunities to spend time outside, as well as indoor activities in the Lillian and Amy Goldman Atrium.
All First Sunday events are free with Garden Admission
See schedule on BBG's website above. 
Read more »
Various Theaters throughout Manhattan
When:
Friday, February 27, 2015 at

Various times

Repeating

every week — Sundays, and Saturdays

through

March 22, 2015 .

Where:
See Event Listing , New York NY
Cost:
$13-$16 per screening but save $2 per tickets with the discount code MOPO15
Contact:
(212) 349-0330
Website:
http://gkids.com/fest2015/
Ages:
Ages 3 and up
Add to cal:
Google Yahoo iCal/Outlook
February 27-March 22, 2015
A wide variety of films for children from around the globe at theaters throughout Manhattan.  New screenings are continually being added to the roster, be sure to see their website for further details and the up-to-date schedule.
Read more »
Come dressed in costume and ready to celebrate Purim with 92Y in English and Hebrew!
Enjoy carnival games run by the Tzofim Israeli Scouts, a petting zoo, fun in our bounce house, and create delicious hamentashen and mishloach manot. Catch a Purim play, Magic Show and even more festivities!
Read more »
Pages