Spring Equinox Egg Balancing Ceremony with Urban Shaman Mama Donna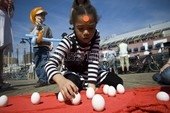 Join Urban Shaman Mama Donna Henes, New York's "Unofficial Commissioner of Public Spirit", in welcoming spring at her 40th Annual  World Famous Spring Equinox Egg Balancing Celebration:  Eggs on End - Standing on Ceremony.
The equinox moment: eggsactly 6:45 PM, signals the official start of spring. At this time, the sun crosses the equator into the Northern Hemisphere and it is possible to stand an egg up on its end.
According to Chinese custom, if you stand an egg on its end on the first day of spring, you will have eggsceptionally good luck for the entire year. The egg represents the life force in many cultures, and is particularly used to symbolize the rebirth of nature in the spring season.
A basket of 360 eggs will be provided for the eggshilarating standing ceremony.
This year's eggstraordinary event will also feature a performance by Batala NYC, an all-women Afro-Brazilian samba reggae percussion band.
Filed under: