Creating Rock: A Three-Hour Replay Workshop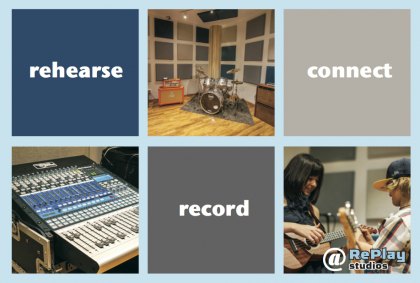 This workshop is great way to get a taste of what Replay Studios is all about – learning to collaborate and rock out in a positive small group setting. Students will work together to arrange, learn, and perform an original song in three hours.
Groups of up to 6 will be arranged by age and ability, from beginners to more advanced players.
Replay is thrilled to be collaborating with David Moreno who will lead this workshop, backed by our talented band coaching team. David is the Guitar Department Chair at the Third Street Music School Settlement and former Director of the NY branch of Day Jams music day camp.
The workshop will be arranged as follows:
• Students will begin by working together to make choices about style, instrumentation, and basic structure. • Students will then be separated into groups based on instrumentation and work on their parts with one of our band coaches. Here, students are encouraged to help each other make the finer choices specific to their instrument including tone, rhythm, harmony, technique, and lyrics. • Lastly, students will regroup as a whole, and make final arrangement choices, practice and record a video of their work!
Get a $10 discount by mentioning Mommy Poppins!
Call for more information: 212-235-7510
Filed under: