Circus in a Trunk
When:
Saturday, January 5, 2013 at

Various times

Repeating

every week — Sundays, and Saturdays

through

January 27, 2013 .

Where:
Canal Park Playhouse 508 Canal Street, New York NY 10001
Cost:
$20
Contact:
866-811-4111
Website:
http://www.canalparkplayhouse.com
Ages:
3+
Add to cal:
Google Yahoo iCal/Outlook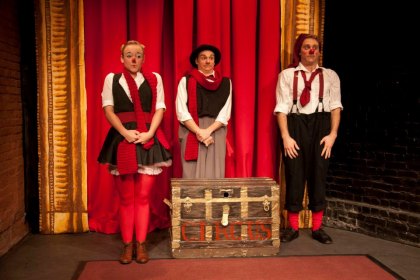 A trio of clowns arrives at Canal Park Playhouse ready to watch the circus that never shows up! This enterprising troupe decides to perform the show themselves, literally pulling an amazing and hilarious performance full of clever surprises out an antique trunk. Combining contemporary and classic European style clowning, The Piccolini Trio bring to life a repertoire of routines using music, acrobatics, physical comedy, juggling, pantomime, and poetic whimsy.
Part of Canal Park Playhouse's Matinee/Brunch series, brunch at the theater's Waffle Iron Café is available before and after the show. The brunch menu includes hot-off-the-waffle-iron spinach, mushroom, and smoked chicken sausage frittatas; French toast; and Traditional Belgian Waffles with pure Vermont maple syrup and butter, as well as the house specialty The Playhouse Pink Waffle (a pink waffle with strawberries and whipped cream) and the chocoholic fantasy the Decadent Dark Chocolate Waffle. Entree salads and waffle-branded sliders are also available.
Two Shows: 1 and 4 pm.
Filed under: