News: Brooklyn Ice Cream Factory Reopens, J&R Jr. Closes, Imagination Playground in Brooklyn, NY Hall of Science Gets Tastier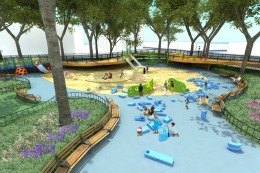 There must be something in the air. A bunch of kid-centric businesses across the city are closing, moving or reopening, like Dumbo's Brooklyn Ice Cream Factory, which is once again serving the sweet stuff after being closed since October, and Kidville, which is closing and opening downtown and in the Bronx.
Meanwhile, Brooklyn is set to get its own David Rockwell-designed Imagination Playground, the New York Hall of Science adds a healthy cafe to its list of attractions, school admissions are all screwed up and a call to help an ill young girl.
Opening, Closing or Relocating A brand-new New York Kids Club is opening in Tribeca at 88 Leonard Street in May. It won't have any competition (for a while at least) since Tribeca's Kidville outpost shuttered last week having outgrown its 200 Church Street location. Come fall, a new Kidville will open at 40 Gold Street. But that's not all: A second outpost is being planned for North Tribeca /Soho, although the exact location has yet to be determined. Meanwhile, Kidville is making history as the first national kiddie gym chain to hit the Bronx. Kidville Riverdale is set to open in May at 555 West 235th Street just a few blocks away from locally-owned play space Kidaroo. Clearly it's a hot tot spot.
We've heard from readers that downtown baby gear and kids' classes spot J&R Jr. has closed. While the official Twitter says it's just renovating all activities (including those awesome free kiddie concerts) have ceased.
I scream, you scream, we can all scream for Dumbo's Brooklyn Ice Cream Factory, which has finally reopened after sustaining severe damage during Hurricane Sandy. Hours are still a bit sporadic, so check the Facebook page for updates.
One of our favorite international sweet shops, London Candy Co., has decamped to the West Village due to poor foot traffic at its former Upper East Side location. The new shop at 267 Bleecker Street is set to open in the near future.
New Museum Café The dining options at Queens' New York Hall of Science are greener and healthier now that Delish by Amerivents Café has opened. Freshly prepared salads, soups and sandwiches are made from locally sourced and organic ingredients, and there are kosher, vegetarian and gluten-free options. Get your meal to go or grab a table: There's indoor and outdoor seating.
More MoMA Following in the footsteps of the Metropolitan Museum of Art, beginning May 1, the Museum of Modern Art will also be open seven days a week.
Future Kids' Attractions The New York Parks Department and the Rockwell Group announced plans to build an Imagination Playground in Brownville's Betsy Head Park reminiscent of the one at South Street Seaport, complete with those signature foam blue blocks for building, floating and hitting (hey it happens but at least it doesn't hurt). It's slated to open in 2015. Meanwhile, Battery Park City's long-delayed SeaGlass Carousel is one step closer to spinning: Earlier this month there was a topping off and the opening is set for early fall. Update: The opening has been delayed to spring 2015.
School Admissions There have been so many crazy school admission stories of late, it's hard to keep up. But parents are up in arms about a number of issues, including G&T test scoring errors, the decision to place students who don't qualify in selective high schools in an attempt to integrate children with special needs and fill up all empty spots, and—even though the ELA and Math Assessments are over—it sounds like some kids are still shell-shocked.
Make a Difference How often do you get a chance to possibly save someone's life? Well you can try this weekend at a local stem cell and bone marrow drive to try to help Jayden, a four-year-old Canadian girl suffering from myelodysplastic syndrome. This Sunday, May 5, adults ages 18 to 44 can get swabbed at Congregation Rodeph Sholom at 7 West 83rd Street to see if they're a match.
Rendering courtesy of the Rockwell Group
Tags: