DJ Classes for NYC Kids: Learn Scratching, Mixing and Digital Music Making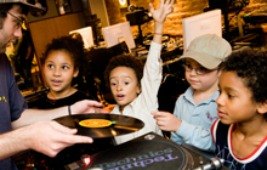 In the age of digital everything you might think old-school DJing with those shiny black things we called records would be dead and gone. But not so. There are a number of DJ schools in NYC that teach retro turntable action as well as digital music mixing via state-of-the-art technology.
While most of these programs are primarily aimed at adults, three Manhattan schools also offer classes for junior DJs. Mixing, blending, scratching and beats are just some of what participants learn, and by the end they have their own professionally recorded demos. (Too bad they'll need to wait until they're 21 to actually spin at a club.) Here are the top DJ classes for tweens and teens in New York City.
Dubspot – West Village
348 West 14th Street between Eighth and Ninth Avenues
This electronic music and DJ school has a couple of courses for kids. Second graders and up can take the semester-long Kids DJ / Producer Program to get hands-on experience mixing music via Serato Scratch Live and Ableton Live Mac-based software. If your kid (or you) don't want to make such a big commitment, there are month-long programs like Hit the Decks: DJing for Kids and Beat Generation: Music Production for Kids, during which students mix their own demos.
Rock and Soul – Midtown West
462 Seventh Avenue near 35th Street
This veteran DJ equipment and record shop also offers classes. Group sessions are limited to five students and private lessons are also available. The classes are organized by skill level more than age, and tweens and teens are accommodated. In addition to 12 hours of instruction over five weeks, free practice time is included at the facility. The beginner course covers listening to the beat, counting bars, mixing, blending, scratching, DJing with vinyl and CDs, plus software, club mixing and sorting music. And participants get on the turntables on the very first day of class. If you want to check it out before you sign up, Rock and Soul regularly hosts free events that include performances by current students.
Scratch DJ Academy – East Village
32 Cooper Square near 6th Street, second floor
With schools in Miami, Chicago, LA and NYC, Scratch offers a DJ Certification Program, a Music Production Certification Program and lessons for all ages, including kids. The DJ 101 class combines basic scratching, timing and mixing with music theory and song structure, plus hands-on experience with Serato Live and Traktor Scratch Pro. During the summer, there's a camp with separate sessions for ages 8 to12 and teens. Participants learn how to count beats per minute, tapping and pushing techniques, and beat matching, and the programs ends with a DJ Battle and certificates of completion for all.
Camp Beats – Westchester
Iona College, 715 North Avenue, New Rochelle
If your kid is really into the idea of DJing, Camp Jam, a national rock 'n' roll sleepaway camp, has an outpost in New Rochelle with a digital music specialty. Children ages 11 to 17 can learn beat matching and making, sample editing and more, and also form their own band and create a music video soundtrack.
Find out about other cool programs for kids in our Classes Guide.