Sleepaway Summer Camps in Connecticut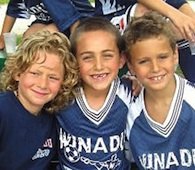 So my older child is ready to do a sleepaway camp this summer. He's 13. My 10 year old wants nothing to do with it. It's time. Our friends have been going to sleepaway for years it seems. We are late bloomers, and that's okay. Lucky for me these camps aren't too far away, because I don't think I am ready to send him off hours away from home. Here is a listing of some great summer sleepaway camps in Connecticut - perfect for locals and city folk alike. If you prefer a same-sex environment, we've covered boys only and girls only camps, too.
Buck's Rock Performing and Creative Arts Camp
I first heard about Buck's Rock when I was living in the city. A family that strategically sent their child to public school saved their would be tuition money so that they could send their child to Buck's Rock all summer long. They felt that Buck's Rock was an investment in their child's future. I then was fortunate enough to visit and saw first hand what they were raving about. It's an art lovers dream. Any creative child would LOVE to go to this camp. Being a montessori based camp,  children self-direct towards the activities they have a passion for. Metalsmithing, bookmaking, theater, costumes, sculpture, glassblowing...you name it.
Bucks Rock Road, New Milford, CT 860.354.5030
Camp Hazen YMCA
My son gets to go to Camp Hazen with his school each year. He loves that they have skateboarding. They also do a challenging team building nature course. It's a popular trip and a lot of the kids want to go back in the summer. They have creative arts, land and water sports as well as outdoor activities such as outdoor survival and mountain biking.
204 West Main Street, Chester, CT 860.526.9529
Camp Jewel YMCA
​This nationally recognized resident camp program provides youth, ages 7-16, with an opportunity to build meaningful and lifelong friendships with fellow campers and staff. Campers become part of a dynamic camp community that fosters independence, skill building, respect for our environment and imparts positive values.
6 Prock Hill Road, Colebrook, CT 860.379.2782
Camp Laurelwood
The only Jewish community overnight camp in Connecticut. If your child has never experienced an exhilarating rope-climb, a solo kayak race, or Sabbath under the stars, this is the summer to discover Camp Laurelwood in North Madison, Connecticut. With a 73 year track record of creating life-long Jewish summer memories and friendships.
463 Summer Hill Road, Madison, CT 203.421.3736
Camp Sloane YMCA
Since our beginnings in 1928, Camp Sloane campers have always enjoyed the fun, the camaraderie and yes, even the comfort of tent camping. Tent camping is what makes us unique. Besides, you're not really camping unless you're staying in a Camp Sloane tent. We have several unique programs like crew/rowing, water skiing and culinary arts.
124 Indian Mountain Road, Lakeville, CT 860.435.2557
Camp Washington
This 300-acre woodland retreat, in the heart of Litchfield County, has been an idyllic spot for children & families for almost 100 years. Here, campers can take a break from their summer routine, make new friends, deepen their faith, enjoy the beauty of the area, have fun, learn new skills and return home with memories that will last a lifetime. The Purpose of the summer camp program at Camp Washington is to provide a place where children of all ages can grow spiritually, emotionally, socially and physically. We strive to help campers come to know God's love through their experiences in this outdoor environment.
190 Kenyon Road, Lakeside, CT 860.567.9623
(Updated 2/18/13).