This Week: Best May Events for NYC Kids, Mother's Day Brunch Ideas, May Festivals & Fairs, Free Comic Book Day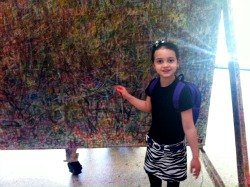 At Mommy Poppins we don't just inspire our readers, we inspire each other! After hearing about our founder Anna's trip to the Guggenheim's Gutai exhibit with her nine-year-old, I decided to take my seven-year-old. That's her in the pic, having a blast literally leaving her mark on a piece called "Please Draw Freely." It's a thought-provoking show that prompted my daughter to start thinking about what constitutes art. Gutai closes next week, so it's your last chance to check it out and enter to win our Guggenheim giveaway.
It's a new month, which means it's time to get out your calendar. Our NYC, New Jersey and Connecticut sites all posted their May Go Lists, highlighting the absolute best things to do with kids throughout the month. With spring kicking into high gear, there are lots of amazing free festivals and fairs, plus Mother's Day is on the horizon. Speaking of the holiday, in addition to our posts about fancy brunch spots and readers' restaurant picks, we came up with five unique Mother's Day brunch ideas in NYC that offer more than just a meal. Meanwhile our Boston site has three easy recipes kids can make for mom on her big day, and our Travel site has Mother's Day getaway deals.
Here's what else we covered on NYC this week:
Our May NYC Go List is jam-packed with the best things to do this month, including lots of picks this very weekend like the New Museum's IDEAS CITY StreetFest and Brooklyn's Super Sonic Kindie Music Festival.
Another cool thing happening this weekend? Saturday's Free Comic Book Day, which coincides with the no-cost Bronx Heroes Comic Book Convention.
At this time of year, there are fests almost everywhere you turn. We've rounded up our top 32 festivals, street fairs and carnivals for NYC families this May.
We added a new post to our Special Needs Guide about top-notch music programs for children with special needs.
Our biweekly links roundup included good news (the reopening of Brooklyn Ice Cream Factory, a new New York Kids Club in Tribeca) and bad (school admissions controversies, the closing of J&R Jr.).
With Mother's Day coming up next Sunday, May 12, it's time to make those brunch plans! We've got swanky spots, readers' faves and a brand-new roundup of offbeat Mother's Day brunches that serve up a side order of entertainment, too.
Here's a new way to explore NYC: a Stray Boots mobile tour, which is equal parts scavenger hunt and walking tour, so it's even fun for natives.
There's a cool new public art project in town and you can be the star: Find out how to get your face plastered in Times Square at the Inside Out photo booth.
Best bets for the weekend include the Gustafer Yellowgold Show, It's My Park Day and a slew of free spring festivals.
Tags: