Basketball for NYC Kids: Learn-to-play Basketball Classes & Lessons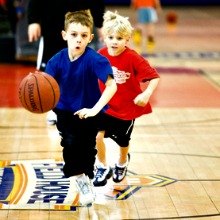 Baseball may be our national pastime but drop by any of NYC's parks with ball courts and it seems like basketball is our local favorite. My admittedly not-very-athletic son has been begging for basketball lessons for a while now. And since he plans to try out for his school's competitive basketball league this winter (even though some of his classmates have asked him not to), we decided it was finally time to get him schooled in the ways of the game.
Luckily in New York City, there are many basketball programs that teach kids the basics in friendly, noncompetitive environments. They differ from basketball leagues, which assume players are ready for full-on games. (We could do a whole other post on those.) With these intro basketball classes, kids hit the court to learn the rules, drill the fundamentals and work up to one-on-one or small team play. Here are a dozen basketball programs for kids in NYC, along with info on where to find one-off FREE clinics. You can find more posts about kids' sports classes in our Classes Guide.
Basketball Learn-to-play Programs
YMCA – Citywide
Ages 4 years and up, depending on location
My eight-year-old son first tried basketball this summer at our local Y. Depending on your location, the program takes place after school or on weekend mornings, and it's one of the best deals in town. The price for nine-class sessions vary by location but ours was just $90 bucks in midtown Manhattan!
Basketball City – Lower East Side
Pier 36, 299 South Street at Montgomery Street
Ages 7-17
Learn the fundamentals in Basketball City's recently opened seven-court facility in weekly co-ed sessions.
Manhattan Youth Downtown Community Center – Downtown Manhattan
Various locations. Visit the website for details.
Ages 7-11
Though the ultimate goal is to join the Downtown Basketball League, players not ready for competition can learn the sport in weekly co-ed clinics.
Asphalt Green – Upper East Side
555 East 90th Street between York and East End Avenues
Ages 3-13
The athletic complex's basketball academy offers co-ed classes organized by age. New this year: a Youth Basketball League for players ages 7 to 9 who qualify.
14th Street Y – East Village
344 East 14th Street between First and Second Avenues
Ages 3-10
This popular neighborhood hub is a favorite of many of my son's classmates. The Y teaches the game by layering skills like dribbling, rebounding and defense into weekly sessions until the students are ready to play noncompetitive games.
Fastbreak Sports – Upper East Side
1629 First Ave between 84th and 85th Streets
5-18 years
While this high-tech sports academy has been teaching kids b-ball skills through drills, small court games and video analysis since 2007, it's set to open a spiffy, three-floor, 8,000-square-foot training facility this fall. After-school classes are offered by grade and some are already filling up.
Yorkville Youth Association – Upper East Side
Various locations
Ages 3-17
One of the oldest community sports groups in NYC, the YYAA offers a basketball league for all ages (pre-K through 12th grade) and abilities at various locations on the Upper East Side.
Fast Break Basketball Center – Staten Island
236 Richmond Valley Road between Arthur Kill Road and Page Avenue
5-15 years
The only dedicated basketball facility in the borough, Fastbreak offers small group classes twice a week for kids as young as kindergarten. Groups are co-ed and players are organized by age.
Aviator Sports Youth Development Program – Marine Park
3159 Flatbush Avenue
Ages 5-15
In weekly Saturday sessions, kids can learn game basics through drills and scrimmages at this massive sports facility in Floyd Bennett Field.
Dribbl – Manhattan & Brooklyn
Various locations. Visit the website for details.
Ages 3-16
While Dribbl began in the early '90s as the basketball program for the Dalton School on the Upper East Side, today it teaches hundreds of boys and girls from schools all over the city the basics of the sport.
Mo' Motion – Upper East Side & Upper West Side
Visit the website for details.
Ages 4-18
This nonprofit organization offers hoops for boys and girls as young as preschool during weekday outdoor sessions, weeknight clinics and weekend programs.
First Shot Basketball – Queens
Various locations throughout Queens. Visit the website for details.
Ages 3-13
First Shot basketball was created to help kids build self-esteem through sportsmanship. While the program gets more competitive as the children age, younger students shoot junior-size balls at low hoops.
Chelsea Piers – Chelsea
Ages 5-10
Chelsea Piers Field House offers Saturday basketball clinics when kids work on the basics through drills, scrimmages and individualized lessons. The semester ends with a basketball showcase where kids can show off their skills.
Free Basketball Clinics
The New York Parks Department offers no-cost basketball lessons. They're usually held in spring and summer but it's worth checking the calendar to see what's coming up.
Battery Park also hosts free weekly basketball lessons in Rockefeller Park through the end of October. No commitment required, just show up.
Find out about other top sports programs for kids in our Classes Guide.